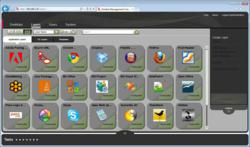 Our IT staff has found provisioning, patching and repairing desktops to be much easier, and our end users enjoy the same, or better, desktop performance and flexibility than they had before.
Copenhagen, Denmark (PRWEB) October 17, 2011
Today at VMworld® 2011 Europe, Unidesk® announced a promotional program with VMware® that enables small and mid-sized businesses (SMBs) to accelerate their desktop virtualization journey and improve operational efficiency. Until December 15, 2011, customers who have purchased or are purchasing VMware View™ Premier 500 or 250 packs can save up to 40 percent on an equivalent number of licenses of Unidesk desktop management software. The combination of VMware View and Unidesk is unique in its ability to support more desktop use cases, while simplifying application delivery, desktop provisioning, patching, and support. With the joint solution, SMB IT organizations can more easily cost-justify virtual desktops and satisfy more requirements for desktop customization.
"Our IT staff isn't big, so we let some users update their own desktops to free up IT resources for strategic projects," said Jan Schumacher, Director Rental, Peter Cramer GmbH & Co. KG of Hagen, Germany. "Allowing this customization used to make desktops harder to support. But since we've moved to virtual desktops based on VMware View and Unidesk, our IT staff has found provisioning, patching and repairing desktops to be much easier, and our end users enjoy the same, or better, desktop performance and flexibility than they had before."
To date, competitive desktop virtualization solutions targeting SMBs have sacrificed flexibility in an attempt to offer simplicity, supporting only non-persistent desktops and stripping out application delivery, application virtualization, and personalization capabilities. But in doing so, they have restricted use cases, and introduced operational inefficiencies by forcing administrators to create and patch multiple gold operating system images to deliver different applications. These solutions also have trouble scaling, requiring SMBs to "rip-and-replace" as they grow larger. VMware View and Unidesk can significantly minimize these tradeoffs.
By using VMware View 5 to access virtual desktops, SMBs benefit from protocol enhancements that provide as much as 75 percent bandwidth improvement over LAN and WAN connections, advanced 3-D graphics support, scalable unified communications integration for voice and video media services, rich multi-client support, and the ability to virtualize applications with VMware ThinApp®.
"SMBs need a robust desktop virtualization solution because their use cases and application needs are often just as diverse as large enterprises, and their end users aren't as locked-down," said Vittorio Viarengo, vice president, End-User Computing Products, VMware. "Yet the solution also needs to be simple, since SMB IT teams wear several hats, and desktops are just one of their many responsibilities. With VMware View Premier™ edition and Unidesk, SMBs can benefit from desktop virtualization that preserves user configurations, makes desktop patching and support fast and easy for IT, and scales as the company grows."
Unidesk creates persistent virtual desktops that preserve all end-user configurations, including profile settings, OS and application settings, and user-installed applications. Because Unidesk's layering technology shares singles instances of the operating system and common applications across many virtual desktops, customers use up to 70 percent less storage capacity compared to standard persistent desktops. SMBs looking to further reduce VDI implementation costs can leverage Unidesk's ability to host virtual desktops on VMware vSphere® using only local storage. Unidesk also makes it easy for SMB IT teams to centrally deliver VMware ThinApp virtualized applications and departmental applications that are difficult to virtualize, and patch and update all desktops from a single, pristine gold image of Microsoft Windows.
"We're delighted to be collaborating with VMware on this new promotional program for small and mid-sized businesses, which builds on the successful program we've been offering for higher education customers since the start of the year," said Tom Rose, Unidesk Chief Marketing Officer. "Our shared customers and resellers have already learned that using VMware View™ for high-fidelity desktop access and Unidesk for efficient desktop management and personalization is a great way to enhance business agility and streamline IT operations. This program will make it easier for SMBs to realize the same benefits."
"Achieving the right balance of operational efficiency for our IT staff and desktop customization for our end users is critically important for businesses like ours," said Jason Pamplin, Chief Information Officer at Thomco Insurance of Kennesaw, Ga., USA. "Our virtual desktop solution needed to provide all of the expected security, mobility, and centralized management benefits, while preserving our ability to delegate administration to our end users. The combination of VMware View and Unidesk is delivering on all fronts, with the added ability to quickly repair desktop problems caused by end user configurations."
Promotion Details
The Unidesk Promotional Program for VMware View Premier in SMB is open to existing and new customers worldwide. Customers who purchase a VMware View Premier 500 pack bundle can purchase the same number of Unidesk licenses for only $60 per managed desktop. Customers who purchase a VMware View Premier 250 pack bundle can purchase the same number of Unidesk licenses for only $75 per managed desktop. To take advantage of either promotion, contact a VMware certified solution provider or Unidesk solution partner. Visit: http://www.unidesk.com/landing/vmware-view-unidesk-smb for more details.
"Dell is pleased to support this Unidesk promotion with VMware and help accelerate desktop virtualization adoption through streamlined Virtual Desktop Infrastructure (VDI) management," said Tony Parkinson, vice president, Consumer, Small and Medium Business, Global Enterprise Solutions, Dell. "Dell and VMware have invested thousands of hours designing and validating Dell Desktop Virtualization Solutions (DVS), which integrates VMware View and vSphere with Dell enterprise server, storage and networking platforms to offer a completely configured and tested VDI solution. Adding Unidesk as an option to DVS expands VDI use cases, simplifies desktop management, and provides the operational cost savings needed by SMBs and other organizations to justify their move to virtual desktops."
About Unidesk
Unidesk® Corporation (http://www.unidesk.com) enables customers to centralize more desktops on data center servers and realize the full potential of Virtual Desktop Infrastructure (VDI). Unidesk's patent-pending desktop layering technology works with VDI access solutions such as VMware View™ and Citrix® XenDesktop® to sustain all desktop customizations for end users, while enabling IT to provision and patch all desktops from a single set of shared operating system and application layers. By creating uniquely personal, storage-efficient, and easy-to-manage virtual desktops on VMware infrastructure that can satisfy almost any use case, Unidesk desktop management software for VDI reduces desktop operations costs up to 30%, cuts VDI storage costs up to 70%, and fosters a more productive, agile workforce. Unidesk Corp. is a privately-held company with headquarters in Marlborough, Mass, USA.
VMware, VMware ThinApp, VMware View, VMware vSphere and VMworld are registered trademarks and/or trademarks of VMware, Inc. in the United States and/or other jurisdictions. The use of the word "partner" or "partnership" does not imply a legal partnership relationship between VMware and any other company.
Unidesk is a registered trademark of Unidesk Corporation in the United States and/or other jurisdictions.
###