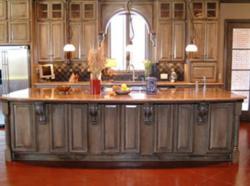 This is a great chance to meet industry professionals and learn new concrete skills.
-Coyne Edmison
Oklahoma City, OK (PRWEB) October 18, 2011
On November 4th, 2011, The Stamp Store will be hosting Contractor Appreciation Day at their Oklahoma City location from 10 am to 2 pm. This event will showcase different concrete manufacturers and their products. Representatives from each company will be present to perform demonstrations and answer questions about their concrete product lines and tools. Free lunch will be served from 11:30 am to 12:30 pm. This event is at no cost to concrete contractors.
Also at this event will be Peter Collins from Arizona Polymer Flooring. Collins will lead an informative demonstration and teach attendees more about the Arizona Polymer Flooring (APF) line. This demonstration will be heavily focused on concrete coatings and sealers.
The address of The Stamp Store is:
121 NE 40th Street
Oklahoma City, OK 73105
About The Stamp Store:
The Stamp Store serves contractors, architects, and homeowners with the latest and most advanced decorative concrete supplies and tools. Additionally, The Stamp Store offers concrete training and specialty classes.
The Stamp Store is owned by Dough Bannister, a member of the American Society of Concrete Contractors. Bannister is an American Concrete Institute Certified Flatwork Technician. Bannister led the Stamp Concrete Demonstration at the World of Concrete conference in 2001. Doug was selected by Concrete Construction as one of the Ten Most Influential People in 2006. In 2010 Doug was inducted into The Decorative Concrete Hall of Fame in which he was recognized for all his contributions to the art and business of decorative concrete.
###