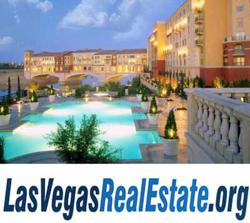 Lake Las Vegas May Be Most Overlooked Real Estate Investment
Las Vegas, NV (PRWEB) October 17, 2011
Las Vegas real estate homes and condo sales have risen for five consecutive month largely because of investor and cash-only purchases in the resale market. August 2011 Sales of Las Vegas condominiums and townhouses posted their best sales month ever with 987 units sold according to reports from the Las Vegas Board of Realtors. Some areas such as the Lake Las Vegas real estate market are going unnoticed.
Lake Las Vegas is a community 17 miles from the world famous Las Vegas strip, tucked away in a picturesque canyon with a large 320 ACRE man-made lake. The Lake community is surrounded by a European-style local village with shopping, casinos, three golf courses, restraunts and five condo/townhouse developments. These condos are at an all time low starting with the Luna Di Lusso community located in MonteLago village situated across the Pontevecchio bridge startinig at $39,500.
Ashley McCormimck or Realty One, Nevada's number one real estate company, recntly completed a local triathlon at Lake Las Vegas allowing her to swim the lake, bike the community and jog the trails. McCormick feels that experiences like this allow her to really understand what a community has to offer. All Lake Las Vegas condos are near the Reflection Bay Golf Club and residents enjoy sweeping views of the lake, golf course and surrounding mountains. McCormick feels that for the money, Lake Las Vegas homes and condos are currently undervalued for the lifestyle it delivers.
While some of these condo communities are categorized as Las Vegas high rise condos, they incorporate more of an open village feel. Residents can access the SouthShore Yacht and Beach Club, tennis courts, beach, marina, casino and restaurants all in village style walking distance. The V at Lake Las Vegas townhomes featuring two story estate-style villas perched on terraces cascading down the village hillside start at $92,000.
McCormick encourages buyers and investors to do their own research so they can be confident in their purchase. According to Trulia research Las Vegas homes for sale are #1 in the US for price to rent ratio. Investors or interested home and condo buyers can contact Ashley McCormick for more information at 1-888-920-2292. Las Vegas real estate to include Lake Las Vegas homes and condos for sale thru the MLS are available online at http://www.LasVegasRealEstate.org
###