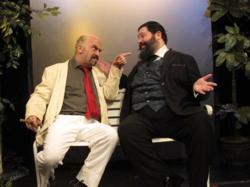 My defection is by a man who values freedom – values it far too much to acquiesce to its abuse, which makes it a cynical joke on Main Street, instead of a universal blessing ...The challenge is to be worthy of freedom.
New York, NY (PRWEB) October 17, 2011
The spirit of "Occupy Wall Street" has been captured in an extraordinarily timely new musical in which a billionaire investor expresses outrage at the overly self-aggrandizing hedge fund he has trusted to invest his fortune and, in the process, he provides an insightful answer for Main Street and Wall Street. The show, The Capitalist Ventriloquist, is being presented by Theater for the New City, which is located on Manhattan's Lower East Side.
Here's what the investor says when he arrives at the hedge fund and sees the founder, Eric, wearing a Santa hat as he passes out exorbitant bonuses.
STANLEY: I made up my mind when I came in here and caught you in that ridiculous Santa hat. I've decided I'll be better off investing on my own again.
ERIC: Isn't that sort of like deciding to become your own lawyer – and you know what they say about that?
STANLEY: I know what lawyers say about it. But that's the way I made my fortune, and I've decided to go back to it. It's the only way I can assure that the bulk of my money goes into funding companies with promise and helping to create jobs, instead of continuing to support the current excessive me-first proclivities of Wall Street. Who knows? I might even be able to fund my charitable foundation with the largesse I was accustomed to before I trusted my wealth management to this incompetent and self-interested institution. As you know, the wealthy can buy a modicum of immortality. They can have things named after them....And let my defection be a lesson to you. Because it's not by an unwitting savant who would be among the first to be silenced by surrendering the conduct of enterprise to the state, but by a man who values freedom – values it far too much to acquiesce to its abuse, which makes it a cynical joke on Main Street, instead of a universal blessing that enables individual enterprise, one hopes, responsibly conducted. The challenge is to be worthy of freedom. My question is, where will freedom find champions wise and courageous enough to distinguish and rescue it?
Yet the show is primarily a bright entertainment that wraps its insights in laughter. The plot revolves around a young math whiz who is supposed to create a new trading model that will save his father's losing hedge fund, which can't compete with the latest high-speed computer trading. But the young man would rather be a singing ventriloquist. The billionaire who finally pulls out his money has been patient primarily because his daughter is engaged to the young man.
The musical is now being presented as a showcase approved by Actors Equity, the actors union, which means the run is limited to three weeks. It has now run for two. This is the final week. Unless the show developes a large audience quickly, the last performance will be on Sunday, October 23rd. Then this musical, which has wonderfully healing content to offer a national and worldwide audience, will close.
If you're a demonstrator or a theatergoer, you're urged to purchase tickets now. Since the show is being presented by a publicly funded theater, the tickets are only $10. If the show can build a large audience within days, it can continue. So please go to SmartTix.com or call the box office at 212-254-1109.
If you're an investor who understands the saving wisdom behind the show, you're urged to invest in it, so it can go on to help heal the dangerous rift between Wall Street and Main Street. Email the team behind the show at thecapitalistventriloquist(at)gmail(dot)com.
If you're a reviewer, please consider reviewing the musical. As you know, any show in a publicly funded venue depends on the press to bring it to the attention of a wide audience. If you wish to review it, please contact the theater publicist, Jonathan Slaff at js(at)jsnyc(dot)com.
The show is being presented at Theater for the New City, Crystal Field, Executive Director. Performances are Thursday, Friday, Saturday at 8 PM, with a Sunday matinee at 2 PM. The theater is located at First Avenue at 10th Street, New York, NY 10003.
###