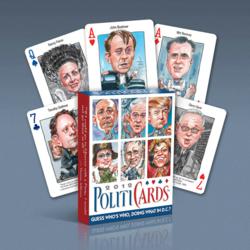 We've definitely headed off a sticky situation and made it a win-win for our customers.
Glendale, CA (PRWEB) October 17, 2011
Peter Green, creator of Politicards, the number one political collectible according to Good Morning America, has recently come out with a statement regarding a grass-roots style push for a recall of his playing card product.
According to Green, "We've had so many of our loyal customers who have purchased the cards say, 'Why didn't you include Herman Cain in your new deck?' The simple answer," he continues, "is that Cain was nowhere to be seen when we locked in our top 54 politicians and pundits last May." Apparently, Cain's exclusion from the deck has left some of the deck's followers a bit miffed. That's nothing new for the approximately 18-month Wild Ride that Politicards takes every 4 years.
"People come, people go—straw poles happen," says Green, "This time we've come up with a good solution to the problem. All we ask of anyone who has purchased a deck of Politicards: Send us a self-addressed stamped envelope and we'll mail you the new Cain card (9 of diamonds). We're even letting our customers keep Tim Pawlenty (who is being replaced by Cain in the newest edition) —He's the guy making room for Mr. 9-9-9." Green states with his trademark devilish smile.
Green goes on to say that Herman Cain will be depicted as Marlon Brando in 'The Godfather' along with the classic line: "I'll make him an offer he can't refuse." It appears to be a perfect match that might just pacify the populace who seemed to have carried a bit of a grudge when it came to who was caricatured in the first deck ... and who wasn't.
Choosing who gets in the deck and who stays out is not a simple process.
First Green develops a campaign index; a 'Who's Who" of political power and popularity throughout the nation. Then he goes "digital" to determine who makes the cut through an elaborate on-line polling system, bringing the total from hundreds down to the Final Fifty-Four (gotta count the Jokers!) For his coup de gras, Green matches up the winners with something a bit unexpected — their appropriate character from the world of motion pictures.
Simply stated: "There have been movies made with characters that perfectly match what each of our political leaders seem to epitomize." Green smiles at the idea, "It's a revelation. AND it brings a few more levels of humor to each of the cards. Add to the mix one of the lines the film character actually says and you've got a perfect parody of the political system."
Taking a look through the deck, he's got Hillary Clinton in a tutu from the Oscar-nominated 'Black Swan' darkly stating that "...it's my turn to play the Black Swan." And there's Texas governor Rick Perry shoveling piles of "fertilizer" and dressed as Robert Duvall from 'Lonesome Dove' boldly shouting "I've shoveled my share of it and it ain't hurt me none!" And then there's President Obama as Pee-Wee Herman, dancing to 'Tequila' in 'Pee-Wee's Big Adventure,' coyly reminding us that, "...there's a lot you don't know about me."
Everyone's a target. Green also has letters from many of those he's lampooned in the deck over the years, each professing their love for all his work and the deck in particular. "McCain is a big fan," Green admits, "So are many of the members of the Senate — both Democrat and Republican. They know it's all in good fun - no cheap shots." He goes on to say, "Mamie Eisenhower (wife of President Dwight D. Eisenhower) played bridge with the '72 deck of Politicards every Sunday. It definitely has a popular national presence." Popular indeed. So much so that, according to Marketing Director, Tim Sims, "It's just one of those humorous gift items that you can play a game of poker with all the while poking a whole lot of fun at those you'd really like to poke fun at — without, you know, resorting to too much 'unnecessary roughness."
For a sampling of Politicards past and present visit http://www.politicards.com
###