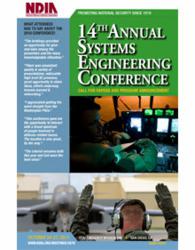 San Diego, CA (PRWEB) October 17, 2011
A major conference focusing on improving acquisition and performance of Defense programs and systems, including net-centric operations and data/information interoperability, system-of-systems engineering and all aspects of system sustainment, will convene in San Diego, CA, October 24-27, 2011.
This conference will provide opportunities to shape policy and procedures by exchanging innovative tactics and lessons learned. The keynote address will be delivered by The Honorable Zachary Lemnios, Assistant Secretary of Defense for Research & Engineering, Department of Defense.
Sponsored by the National Defense Industrial Association, Systems Engineering Division, with Technical co-sponsorship by IEEE AES, IEEE Systems Council and the International Council on Systems Engineering, this conference seeks to create an interactive forum for program managers, systems engineers, chief scientists, and engineers and managers from the requirements, design, verification, support, logistics and test communities from both government and industry.
The Department of Defense continues to seek ways to improve the acquisition of military equipment and the capabilities necessary to assist the warfighter in protecting the U.S. and its allies, as well as help oppressed nations around the world—all in a complex environment of ever-changing threats and conditions. The recently enacted Weapon Systems Acquisition Reform Act (WSARA) of 2009 defines Systems Engineering as a key player in helping effect improvements in those arenas, to achieve more effective and affordable military systems.
Supported by the Office of Under Secretary of Defense for Acquisition, Technology and Logistics, Director, Systems Engineering, and Office of the DoD Chief Information Officer, this conference explores the various roles of systems engineering from all aspects and perspectives—pragmatic, practical and academic—and brings key practitioners together to work on effective solutions to achieve a successful warfighting force.
Topic sessions will include:

SE Workforce Development, Education and Training
Technology Maturity Measurement
Integrated Diagnostics
Modeling and Simulation
Test & Evaluation in Systems Engineering
Net-Centric Operations
Human Systems Integration (HSI)
Systems Engineering is the "umbrella" engineering function that serves as the key integrator for successful program execution, and helps maintain the balance between requirements, performance, cost, schedule, and overall effectiveness and affordability. The discipline's principles embody strong technical and risk management aspects, for the acquiring program office as well as the prime- and sub-contractors.
The National Defense Industrial Association (NDIA) is America's leading Defense Industry association promoting national security. NDIA is proud to provide a legal and ethical forum for the exchange of information between Industry and Government on National Security issues. Our members foster the development of the most innovative and superior equipment, training, and support for the warfighters and first responders represented by our Divisions.
###