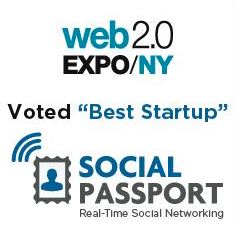 We were up against some exceptional competition, but our free social network solution came out on top, further validating the value of Social Passport to businesses
(PRWEB) October 17, 2011
Social Passport announced that they were voted "Best Start-up of the Year" at this years' Web 2.0 Expo at their Start-up Showcase. Social Passport is a company that leverages the most popular social networks (Facebook, Twitter, foursquare, LinkedIn, MySpace) in real-time, allowing businesses and organizations to quickly and easily promote their product, service or cause to hundreds, if not thousands, instantly.
After an initial screening process, Social Passport was selected as one of 30 companies to compete at the Web 2.0 Expo start-up showcase. Hundreds of venture capitalists, journalists and tech enthusiasts attended the showcase and had the opportunity to visit each company and vote for the favorite start-up. Social Passport unveiled at the showcase their NFC, Reverse QR and Dynamic QR delivery methods for retailers to leverage their customers' social networks in real time to promote their businesses. A highlighted feature was the merchant suite, allowing retailers to incentivize social media through coupons and loyalty cards – all for free!"
"We were up against some exceptional competition, but our free social network solution came out on top, further validating the value of Social Passport to businesses," remarked Dave Merel, founder and CEO of Social Passport.
Social Passport was founded in January 2011 (we say 2011 in lots of our marketing stuff) by entrepreneur Merel, who wanted to transform social media by allowing companies and users to reap benefits of social networking in real time while they were still in a store or at an event.
To learn more about Social Passport visit http://www.socialpassport.net
About Social Passport
Social Passport is a technology that enables retail businesses to communicate their products and services to each visitor's social network in real time. Through this principle of "market to one….market to many," businesses can communicate their message to thousands of users instantly. For users, Social Passport provides an all-in-one solution to participate in social networking on the go, and also as a way to store digital loyalty cards and e-coupons. Users will not only be able to perform social media operations across multiple platforms in a matter of seconds, but additionally they will be rewarded by retailers via coupons and loyalty cards for discounts, free gifts, and other promotions in exchange for using their Social Passport.
About Web 2.0 Expo
Web 2.0 Expo is a conference and tradeshow for everyone who cares about embracing and extending the opportunities created by Web 2.0 technologies. Web 2.0 Expo engages thousands of participants through:

Tactical and strategic sessions assembled by program chairs Brady Forrest (O'Reilly) and Sarah Milstein (UBM TechWeb), designed to hone practical skills and keep people ahead of the game
A bustling Expo Hall showcasing companies and projects vital to the web ecosystem
Keynote presentations from leaders and innovators describing what's ahead for the industry
Time to connect with other like minds through events, an unconference and a robust "hallway track"
###