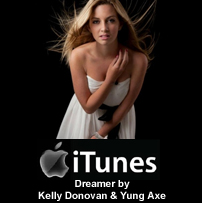 Kelly has just released her debut single with fellow musician Axl 'Yung Axe' Campbell through ITunes & Spotify. The single named 'Dreamer' released on the 7th October 2011
(PRWEB) October 18, 2011
Beat100 is not just a site about making & uploading videos and receiving a whopping great pay check for your troubles. Beat100 is also about promoting talent and ensuring that there is a future in the music industry for individuals & groups that would otherwise find it increasingly difficult to get their names out there.
In its first week of going live, Beat100 boasted many talents seeking out places in the music chart. The two top spots were taken up by two different acts - one solo performer named Kelly Donovan and Southend-born band going under the title of 'Plastic Youth'.
Kelly Donovan (17) a singer/songwriter from Essex, UK has been making waves throughout the music industry throughout 2011 despite being only 17 years of age. Kelly has written songs from a very young age and the depth and feeling that come across through her lyrics and delivery confirm that she's already an experienced talent despite having the best part of her life ahead of her.
Kelly began to get noticed for her music shortly after signing up to occupation based social networking site, Linkedin.com. Kelly has well in excess of 1500 connections on the site, the majority of which want to work with her. Through this, she's hoping to be signed by a company such as Island Def Jam, Sony or Universal etc. It's even obvious from across the pond that Kelly Donovan has what it takes in abundance to make it to the top.
Kelly has just released her debut single with fellow musician 'Yung Axe' Campbell through ITunes, Napster & Spotify. The single named 'Dreamer' released on the 7th October 2011 on Island Def Jam Distribution is a collaboration between the two youngsters which shares their vision that they have a dream and will go to the end until they make it happen. Kelly & Axl hooked up after realizing they were both keen musicians whilst working together at Adventure Island on Southend-on-Sea's golden mile. 'Dreamer' is just one of a few songs that the pair have written together & recorded with Tom Strike (Team Franklin) in Hockley, Essex.
Kelly says, "We are currently still writing and producing music together and, in the long run, would like to co-write and, if possible, branch out into our own solo careers."
You can purchase 'Dreamer' by Kelly Donovan & 'Yung Axe' Campbell now at I Tunes.
Plastic Youth topped the first ever Beat100 music chart in September 2011 and have since began reaping the rewards along with everything else that the band has achieved this year which include being hotly tipped by numerous prime time radio DJ's & well known industry faces such as Alan McGee, Roger Sargent, Don Letts, Mick Jones etc... Plastic Youth consists of brothers Luke (guitar), James (vocals & bass), Dan (guitar) and drummer, Kieran Ambrose.
As of June 2011 Plastic Youth have been in & out of the studio recording what is to be the band's debut album produced by Verve guitarist Nick McCabe. The first two tracks that the Plastics have completed are called 'Death Row' & 'Animal Style'. Death Row will be the band's first single thought to be released in January of the New Year whilst 'Animal Style' recently surfaced on the internet just as a taster of things to come, "the track is about getting away from the ugly side of humanity & seeking something new" as quoted by front man James. The band look set to tour early on next year to promote single 'Death Row' under the watchful eye of band manager Bob Morris who over the years has worked closely with bands such as Primal Scream, Oasis, Ride & the Libertines.
Plastic Youth conjure intricate guitar melodies, vocals full of intent and driving early 90's rhythms into stunning songs that make your head nod & bones rattle. Both live and on record, the plastics sound like they're broadcasting to the masses, preaching it their way and nothing but. With stack loads of attitude mixed with punk sensibilities, it's the driving energy that the band have in abundance which makes them a force on the musical landscape.
You can listen to 'Animal Style' by Plastic Youth now at http://soundcloud.com/plasticyouth.
"I'm working with a modern masterpiece!" – Nick McCabe, The Verve (whilst producing 'Death Row")
"Plastic Youth are sure to be the darlings of the festival tents very soon!" – NOIZE MAKES ENEMIES
"Blinding! The final nail in the coffin for Mumford & Sons" – Alan McGee, Creation Records
"Anthemic and euphoric choruses aplenty, sounds dreamy!" – SOURMASH (on 'Animal Style')
"The voice of angry young Essex" – Phil Jupitus, Never Mind the Buzzcocks
"Real top drawer stuff! – LMHR, Love Music Hate Racism
You can also keep up to date with Plastic Youth by heading over to http://plasticyouth.co.uk/.
###