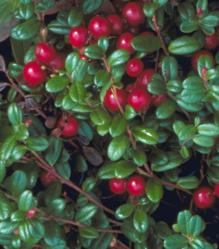 EurekaMag.com - Biological Sciences Magazine
(PRWEB) October 18, 2011
Lingonberry or cowberry (Vaccinium vitis-idaea) is native to boreal forest and Arctic tundra in the Northern Hemisphere of Europe, Asia and America. Under commercial horticultural cultivation, production techniques are similar to that of other important Vaccinium crops such as blueberry and cranberry. Naturally lingonberry grows as a short, evergreen shrub that bears edible red fruits. Due to their sour taste the fruits are usually sweetened before eating in the form of jam, juice or syrup. They contain organic acids, vitamin C, provitamin A, B vitamins, nutrients including calcium, magnesium, phosphorus and potassium, omega-3 fatty acids, and phytochemicals counteracting urinary-tract infections. The review focuses on aspects of cultivation of Lingonberry including micropropagation and use of plastic mulch, effects of pest incidence on domestic and export markets in Newfoundland, and the allelopathic effects (cell growth inhibition) of phenolic constituents in lingonberry shoot powder.
A Cell Membrane separates the interior of all cells from the outside environment. As such it is selectively permeable and controls the movement of ions and organic molecules entering and exiting cells. EurekaMag.com now includes an extensive review providing scientific information on the cell membrane. It covers many examples about the selectivity of cell membranes of plant and animal cell membranes to certain substances and ways to manipulate that behavior. It presents research on the virus entry across membranes and how cell damage alters membrane permeability. The review also includes experiments on exposure of cell membranes to external electrical fields resulting in their depolarization and subsequent partly reversible electrical breakdown. Medicinal research on cell membranes including effects on increased cholesterol is part of this review as well.
EurekaMag.com is a comprehensive aggregator of websites, science references and scientific reviews in biology, in the applied life sciences agriculture, horticulture and forestry, in the earth sciences, in the environmental sciences, and in the health sciences. During the end of 2010 it received ca. 40,000 page impressions per day but was republished after a change of ownership in early 2011.
The Science Magazine has recently been accredited by the Chinese Ministry of Information Industry with the registration number 案ICP备10204677号. It also includes a directory currently containing 13,705 categories to which users can submit their information on biological topics. The site delivers its content through a number of RSS feeds and an @EurekaMag Twitter account currently containing 41,000 tweets appreciated by 600 followers. The site accepts advertisements through the Google AdWords system. Potential advertisers may use EurekaMag.com for their advertising campaigns if their niche falls within the broader topics of the life, earth and health sciences.
###