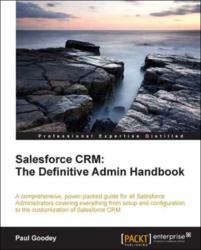 Administering the Salesforce cloud? Here's a book that will help you excel
UK (PRWEB) October 18, 2011
Birmingham: Packt is delighted to announce Salesforce CRM: The Definitive Admin Handbook. Written by Paul Goodey, this book is a practical real-world title that offers the in depth information needed to administer this powerful CRM application. Whether you are looking to enhance core features or customize your Salesforce CRM system and are looking for guidance on advanced features, this book will show you how to get the maximum benefit from this exciting product.
SalesForce is an industry-leading Customer Relationship Management (CRM) application. The Salesforce CRM helps businesses improve client relations, enhance sales performance and more. This book provides a practical, step-by-step reading experience. It includes information on the initial user, moves on to security setup, and then progresses to higher level tasks such as configuration, data management, and data analytics. Administrators are presented with ways to improve setup and how to avoid some common pitfalls using tips and tricks gained from real-world experiences. There is also information on the ways in which the core platform can be further extended and enhanced to provide the maximum return on investment for your organization. Detailed book information can be found on the Packt website.
The book is available in both print, eBook and online library formats from Packt, and other leading book channels.
About Packt.
Packt is a modern and innovative publishing company with 2011 pipeline of 260 new titles. Packt Enterprise is the imprint specifically created to cover the informational needs of IT Professionals in the Enterprise space, and develops books predominantly on IBM, Microsoft, Oracle and SAP, as well as books on other areas such as VMWare, Troux, Metastorm and Citrix. Details on all these titles can be found on the Packt website.
Packt recently launched its own online library platform. For just over $200 per year, subscribers can access all Packt's books through any web browser connected to the internet. Smaller micro-libraries such as the Oracle micro library ($120 per year) can also be purchased.
###