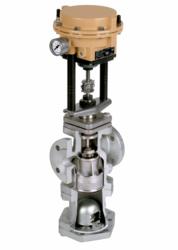 We were so impressed that TLV's system has now been rolled out across all Stalbridge Linen sites
Cheltenham, United Kingdon (PRWEB UK) 19 October 2011
Each of the four laundries (three in Dorset and one in Glasgow) uses steam for roller ironers, through which linen is passed for drying and ironing. At each location, steam is generated at approximately 10 bar, which is ideal to heat the ironers to the temperature required for cotton-based linen products. However, in recent years Stalbridge was receiving more synthetic-based linen products so there was a need to reduce steam pressure to approximately 6 to 8 bar to give them the lower temperature required for these materials.
Commenting for Johnsons Stalbridge Linen, site engineering manager Richard Sparkes says: "As our preferred supplier of steam-related equipment, we spoke to TLV about installing pressure reducing valves at the Sturminster site. Not only did we want the control and switch between pressures to be quick and easy for our operators, it couldn't affect any other steam-related processes.
"TLV's engineers recommended installing the combined valve, trap and separator arrangement of its CV-COS coupled with a pressure sensor and controller on the steam branch line immediately before the roller ironer. The setup worked first time, we haven't looked back and were so impressed that the system has now been rolled out across all Stalbridge Linen sites."
TLV supplied three CV-COS pressure reducing valve sets for the initial Sturminster Newton site trial, one for each ironer. An additional seven sets have now been ordered for the remaining Stalbridge laundries (three for its Milborne Port site, two for Shaftesbury and two for Glasgow).
TLV Euro Engineering's CV-COS automatically controls pressure, temperature or the flow rate of steam; and removes condensate at a separation efficiency rate up to 98%. The electro-pneumatic pressure reducing valve adds a convenient control function to a range that already combines a pressure reducing valve, separator and steam trap in one compact unit.
Its unique specification saves space; simplifies system layout, piping and maintenance; and eliminates the risk of damage and incorrect adjustment associated with side-mounted components.
CV-COS benefits have been recognised with a Breakthrough Product of the Year Award from a leading US process magazine, which expects it to 'greatly impact on the process industry for years to come'.
The CV-COS, which combines a top-mounted pneumatic actuator and integrated I/P positioner with a cyclone separator, self-modulating free-float steam trap and control valve, allows existing control valves to be easily replaced and zero/span adjustment performed by simple dial rotation.
Summing up, Richard Sparkes says that not only was the installation quick and easy, TLV were also on hand to provide installation engineering help. He goes onto to say that there have been no problems since the installation of the CV-COS based pressure reducing sets and that the drying efficiency of the ironers has improved thanks to the increased dryness of the steam.
###