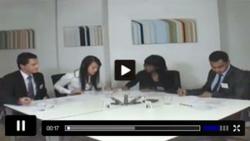 Who better to give candidates advice on assessment centres than the assessors themselves?
London (PRWEB UK) 18 October 2011
A joint venture between occupational psychologists Mendas and practice test providers AssessmentDay sees the launch of an interactive website to help candidates prepare for attending an assessment centre. This online resource contains video providing practical tips and advice, as well as the option to download exercises that reflect those used in the world of graduate recruitment.
"Every candidate who gets invited to an assessment centre wants to know more about it and how they can perform their best. This new website will open up the sometimes little-understood world of assessment centres so that candidates learn how to demonstrate their full abilities," says Oliver Savill, Director of AssessmentDay.
Attending an assessment centre is a nerve-racking experience for many candidates, with around half of all graduate job applications involving an assessment centre as part of the selection process. Mendas, who have a strong track record of designing and delivering assessment centres for both public and private sector organisations, have shared their knowledge and practical advice on camera so candidates get to see how assessment centres operate and what assessors look for.
Mendas explain their enthusiasm for the new website by saying, "The candidate experience is at the heart of every solution we provide for our clients. We adopt a transparent approach, providing candidates with enough information to know what is expected of them, so they can concentrate on performing the task. AssessmentDay is the perfect medium to give candidates the understanding about the types of tasks they may be faced with during the assessment process, and encourages them to think about how they may approach these tasks. We are not providing a resource to allow candidates to cheat; we are encouraging them to take time to prepare, reflect on areas of strength and development, and to consider alternative approaches in advance of their assessment event."
The new online videos follow real graduates taking part in an assessment centre, with trained assessors talking through candidates' performances and pointing out examples of high-scoring behaviour. The exercises demonstrated in the videos can be downloaded so candidates can work through the exercises themselves as they follow the videos.
Oliver Savill explains "Who better to give candidates advice on assessment centres than the assessors themselves? Mendas are an authority on assessment centres and this website uses their in-depth knowledge to create a resource for graduates, which will not only provide them with a valuable insight into the process, but also offers them the opportunity to practice the skills required and to reflect on their own approach to assessment exercises".
AssessmentDay have been providing candidates with the opportunity to practise psychometric ability tests for over five years, but being able to practise assessment centre exercises is a new direction and a timely helping-hand for candidates trying to clinch that top job.
This online resource makes it easy for candidates to access relevant, useful information that could change the direction of their careers.
To see what exercises candidates can practice and what videos are available, please visit http://www.assessmentday.co.uk/assessmentcentre/.
# # #