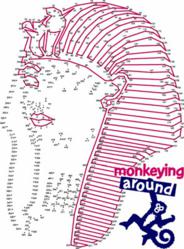 It was quite an honor to be picked over the large variety of puzzles books out there like crossword, word search or sudoku.
Rochester, NY (PRWEB) October 18, 2011
The Greatest Dot-to-Dot Book #1, a challenging collection of connect-the-dot surprises is being used as a prop in the new major motion picture movie, The Guard, directed by John Michael McDonagh and starring Brendan Gleeson and Don Cheadle. When Sergeant Gerry Boyle, an unorthodox Irish policeman with a confrontational personality, isn't with his uptight FBI partner investigating an international drug-smuggling ring, he can be seen occupying his time with the unique dot-to-dot books made by Monkeying Around.
"It was quite an honor to be picked over the large variety of puzzles books out there like crossword, word search or sudoku. Apparently a staff member working on the film was a fan of my dot-to-dot books and suggested using the 'Greatest Dot-to-Dot Book #1' in the movie," said David Kalvitis of Monkeying Around.
Still releasing in theaters across the nation, The Guard features Sergeant Boyle occupying his time and sharpening his brain with the complex variety of Monkeying Around's Greatest Dot-to-Dot puzzles. The Challenge and intrigue these puzzle book create provide many educational benefits for people of all ages. They address specific learning categories including sequencing, instructions, image recognition, coordinates, alphabetical order, and compass directions.
"It was an absolute thrill to see the Greatest Dot-to-Dot Book on the big screen. Sergeant Boyle looks like he is working on something important at his desk in the police office and his eyes widen with surprise at what he sees. He then picks up the Greatest Dot-to-Dot Book and shows his fellow officer the surprising image he just created. It was a very humorous moment and a brief glimpse into Sergeant Boyle's unusual personality," said Kalvitis.
David Kalvitis started the "Dot-to-Dot Revolution" by being the first to come out with a dot-to-dot that engaged older kids as well as adults. The puzzles featured are the most challenging, artistic and original follow-the-dot books on the market. With numbers that range from 95-1,495, gamers cannot tell what the image will be before starting the puzzle.
For more information, visit http://www.monkeyingaround.com/ or connect with the company on Facebook.com/GreatDot2Dots.
About Monkeying Around
Monkeying Around was founded in 2000 by David Kalvitis. Kalvitis, a lifelong puzzle and game fan, has a Fine Arts degree from Syracuse University and operated a graphic design business in Upstate NY for 13 years. Since 2000, Monkeying Around has been dedicated to offering innovative dot-to-dot products that will delight and entertain children and adults of all ages. Monkeying Around produces "The Greatest Dot-to-Dot Books in the World," a challenging collection of unique dot-to-dot surprises and variations. The company also publishes "The Greatest Newspaper Dot-to-Dot Puzzles," pocket and travel sized collections of weekly syndicated puzzles, in the pages of USA newspapers. In 2007, the first of the "Greatest Dot-to-Dot Super Challenge" Books was introduced.
Contact
David Kalvitis
Info(at)monkeyingaround(dot)com
800-553-4300
http://www.monkeyingaround.com
###