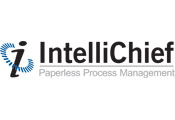 Mansfield, MA (PRWEB) October 17, 2011
IntelliChief LLC, the leading provider of document management and document imaging solutions for the IBM I (System i, iSeries, AS/400), invites all to register for IntelliChief Electronic Document Management: Store and Retrieve Webinar. With electronic document management, users gain robust document search capabilities and access to a secure document archive.
Organizations of all sizes spend hundreds of hours per year simply searching for misfiled documents. Research shows 25% of enterprise paper documents are misplaced and will never be located. This webinar will show how IntelliChief electronic document management enables users to easily store and retrieve documents in a timely and cost-effective manner.
With IntelliChief's convenient browser-based interface, users are able to search for their documents on the go. IntelliChief tightly integrates with all of the major ERP applications providers including Infor, JD Edwards, JDA, Mincron, Retalix, Wynne Systems, and many more.
Attendees will not only learn about store and retrieve functionality, but also how IntelliChief Document Management can eliminate paper from business processes and increase operational efficiency in areas such as purchasing, receiving, payables, human resources, customer service, and more.
IntelliChief welcomes people to register to attend this brief and informational Webinar, which will take place on Thursday, October 27, 2011 2-2:30pm EDT.
About IntelliChief
IntelliChief, is the leading provider of Paperless Process Management (PPM) solutions for the IBM i (System i, iSeries, AS/400) Enterprise. With decades of expertise in the market and seamless integration with leading ERP software vendors, IntelliChief takes companies of all sizes paperless with a typical ROI of less than one year. Users can create, capture, manage, archive, retrieve, and distribute mission-critical documents directly from their familiar ERP screens, eliminating the need for filing cabinets, storage facilities, fax machines, copiers, and paper files.
Contact:
Brian Smith
Director of Marketing
508-594-2800 Ext. 556
###