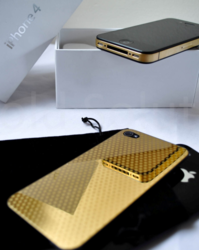 Over 1 million iPhones sold in 1 day - and none of them were gold plated!
(PRWEB UK) 19 October 2011
Ever since gold plated mobiles were seen on Dragons Den the public have been fascinated in gold plating services.
Now, 4 years on and with their diy gold plating kits selling all over the world, Gold Solutions are offering the public the opportunity to find out how to gold plate any metal household item for themselves. For the next month they are offering 1, 2 and 4 hour training courses, at subsidised prices, just so that anyone wishing to get in to this lucrative –and as yet – untapped market can do so.
Terry George says "although electroplating is over 200 years old, the modern application of this has still not been addressed properly. The fact that you can go down any High Street in the country and not see, for example, a gold plated iPod or iPhone in any shop window is just bad marketing.
"The idea that with millions of people shopping between now and xmas, none of them would buy one of these attractive products is unrealistic. Then, when you then look at what else can be gold plated it is clear what an amazing business opportunity this is".
It has long been understood that retailing large volumes of products has always been based on shops using standard marketing principals of display – and nothing creates more interest in an existing product range than seeing it gold plated for the first time - but Gold Solutions believe that the public need have the chance to see that for themselves.
With over 1000 existing buyers of their home plating kits and chemicals in the UK and abroad, they have now just created the world's first ever Gold Plating Guild that visitors can go to and find a gold plating service (GPG member) in their own area or region free of charge, such is Gold Solutions determination to get these products and services to everyone in every town and city in the UK.
With existing Operators earning well in excess of £50 per hour, and with no previous experience required, it is easy to see why people are turning to this all over the world to generate some extra income. Once people see just how easy it is to gold plate they soon realise the potential.
Again, George "An example of just one of the hundreds of items that can be plated is a well-known brand of safety razor, which already has a chrome plated handle, which we just plated with 24k gold. This created a fantastic and totally unique gift which was sold as an inexpensive – yet totally original - present for Fathers Day this year and will now be sold during the Christmas period. THIS is the direction this industry will be going in next year in a big way".
Gold Solutions will also be announcing soon the start of a charity with the aim of raising money utilising its gold plating facility. It is intended that a range of products will be plated with 24k gold and sold for various charititable causes.
For further details please contact: http://www.goldsolutions.eu/
###