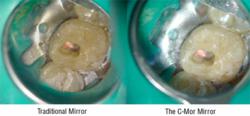 New C-Mor mirrors are the brightest, clearest mirrors available.
South Hacnkensack, NJ (PRWEB) October 19, 2011
Essential Dental Systems, Inc. (EDS) is proud to announce a new product to its line of quality dental devices, C-Mor Ultra-Bright Front Surface Mirrors. These mirrors revolutionize the visual field of dentistry by incorporating a special hi-tech process giving the practitioner the highest reflectance, light, and definition available.
With superior reflection, sharpness and contrast you can literally see more without distortion or cloudiness. Imagine television without high-definition- now that same groundbreaking technology is available in dental mirrors, allowing for the most enhanced field of vision available with any other mirror on the market. The C-Mor Mirror, with its 113% reflection factor will change the way you practice dentistry by enhancing what you see in a way unimaginable until now.
The C-Mor mirror is available in a convenient (4) pack of #5 Stainless Steel Mirror Heads. Additionally offered is a Stainless Steel Mirror Handle. These products are available immediately from all dental distributors.
###