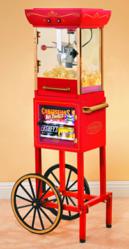 This popcorn cart offers the features of a high-end unit at an affordable price.
Green Bay, Wisconsin (PRWEB) October 18, 2011
Fresh, delicious kettle cooked popcorn is a movie night staple, but what about those sugary snacks that make visiting the theater such a treat? Now movie lovers can have the complete theater package at home with the Nostalgia Electrics™ Old Fashioned Movie Time Popcorn Cart with Concession Stand. Serve up hot kettle cooked popcorn and display sweet snacks, all within an artfully designed cart that will complement any home theater or game room. This 48" cart is now available exclusively through JC Penney and has a suggested retail price of $199.99.
The Old Fashioned Movie Time Popcorn Cart with Concession Stand offers all the benefits of a high-end popcorn cart at an incredibly affordable price. The stainless steel kettle has a built-in stirring system and pops up to 8 cups of popcorn per batch. Tantalizing treats displayed on the illuminated shelves of the lighted concession stand compartment will delight and entice family and friends. The vintage design resembles the popcorn vendor carts of the early 1900s, and is a vibrant addition to any home. And, it's easy to use and clean.
"More and more people are saving money by entertaining at home. But, that doesn't mean you have to sacrifice ambiance and fun. With this budget-friendly popcorn cart, people can enjoy the magic of the cinema not just a few times a year, but every day," says Gregg Bond, President of Nostalgia Products Group, LLC.
At a great low price, the Vintage Series™ Old Fashioned Movie Time Popcorn Cart with Concession Stand is a surefire hit at any party or gathering. It's also a fantastic holiday gift sure to bring joy year round.
Features Include:

Large 2-oz stainless steel kettle with built-in stirring system
Uses 2 ounces of corn kernels to yield 8 cups of popcorn
Tempered glass windows
Lighted concession stand compartment with illuminated shelves
Storage compartment in base of unit
Pull out popcorn drawer
Kernel catcher
Easy to use, easy to clean
The OLD FASHIONED MOVIE TIME POPCORN CART with CONCESSION STAND is distributed by:
Nostalgia Products Group, LLC
1471 Partnership Dr.
Green Bay, WI 54304-5685
About Nostalgia Products Group, LLC:
Nostalgia Products Group, LLC, designs, manufactures and markets the Nostalgia Electrics brand of small electric appliances. Nostalgia Products Group, LLC also develops a wide range of innovative products to excite consumers and retailers alike, such as the Old Fashioned Movie Time Popcorn Cart™. Their products are sold through all major channels of distribution from both within the United States and worldwide. Retail and e-retail sales include all major department store chains, home shopping networks, catalogs, and e-commerce companies. Internationally, NPG products carry the GS and SSA electrical approvals. They ship to over 30 countries worldwide. Services include product development, sales, marketing, warehousing and distribution. Please visit Nostalgia Products Group, LLC online at: http://www.nostalgiaelectrics.com.
For more information, please contact:
Sales and Marketing
Nostalgia Products Group, LLC
Phone: 920.337.9800 • Fax: 920.337.9984 • E-mail: sales(at)nostalgiaelectrics(dot)com
For media inquiries, please contact:
Mary Rozwadowski
Nostalgia Products Group, LLC
Phone: 920.337.9800 • E-mail: mrozwadowski(at)nostalgiaelectrics(dot)com
###