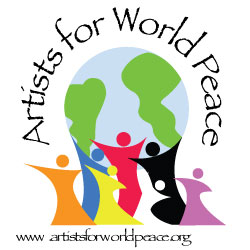 Middletown CT (PRWEB) October 18, 2011
Artists for World Peace (AFWP) today announced the 2nd International Festival of Peace: AFWP on Broadway, a benefit concert to support AFWP's humanitarian programs. The one-night-only event will be held Sunday, November 6th at the Helen Mills Theater, 139 West 26th Street, NYC.
Mamma Mia! cast members Sharone Sayegh and Rachel Frankenthal will produce the soiree, featuring original works, as well as Broadway favorites and classics performed by cast members of current Broadway hits. Each dancer will have the honor of wearing the International Peace Belt during his or her performance. The coins and gems in the sterling silver belt represent 125 countries. Completed in 2003, the Peace Belt inspired the foundation of Artists for World Peace.
"Artists for World Peace is overwhelmed by the generosity of the contributing Broadway performers," raves the organization's founder and director, Wendy Black-Nasta. She anticipates the Broadway performer's efforts will result in an outstanding fund-raiser for the organization, whose projects include completing a community health center in Tanzania and funding a scholarship program for students in the United States majoring in the arts.
Tickets are $100 per person. All tickets must be purchased in advance, and seating is limited. The show starts at 8:30 p.m. Cocktails and light fare will be served from 8:30–9:30 p.m. The performers will take the stage from 9:30–10:30 p.m.
Founded in 2003, Artists for World Peace (AFWP) is a nonprofit fund-raising and grant-making foundation headquartered in Middletown, CT. The organization creates opportunities for artists to work for social justice and helps raise funds to benefit humanitarian causes internationally.
Since its inception in 2003, AFWP has:
· Raised more than $500,000 through inspirational fund-raisers and events to benefit children and families whose lives have been affected by poverty, illness, and limited economic, political, and social access
· Supported 112 performances in 22 countries through our work with the International Peace Belt and the salon series One Concert, One Child
· Collaborated with 200+ visual and performing artists in raising funds to support humanitarian projects
· Built meaningful partnerships between the global arts community and institutions, including the Good Hope Trust and Lukundane Co-op, Kibosho, Tanzania; the Rosebud Reservation, South Dakota; the Santa Clara Orphanage, Rio de Janeiro, Brazil; Bethesda Evangelical Mission, Les Cayes, Haiti; the Sera Je Monastery and Secondary School, Bylakuppe, South India; Center School, East Hampton, Connecticut; and Half the Sky Foundation, China
· Provided ongoing educational and living expenses for 13 children in five countries through the Children of Peace Project
For tickets, information on making a donation, or to learn more about AWFP and its worldwide humanitarian efforts, visit ArtistsforWorldPeace.org.
Press release services provided by Keyword Performance LLC search engine optimization and social media specialists.
###