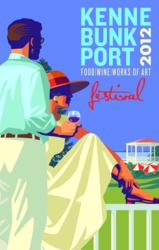 Portland, ME (PRWEB) October 17, 2011
The Events Team at Maine Magazine announced today that plans for the 2012 Kennebunkport Festival are well underway. This five-day festival held in what is, arguably, the state's quintessential coastal community is a celebration of Maine food, wine, art, and community runs June 5 – 9, 2012.
While a number of details have yet to be completely ironed out Courtney McMennamin who heads up the Events Team said, "The line-up for our Art of Dining in-home dinner series reads like a who's who of top Maine Chefs. The series, which was one of our many sold-out events last year, really grounds the Festival as a true community focused celebration."
The slate of Chefs committed to the Art of Dining Series includes:

Shanna and Brian O'Hea - Kennebunk Inn
Shannon Bard - Zapoteca Restaurante Y Tequileria
Peggy Liversidge - Kitchen Chicks Catering
Lynette Mosher & Robert Krajewski - Lily Bistro
Rob Evans - Hugo's
Lee Farrington - Figa Restaurant
Lee Skawinski - Cinque Terre/Vignola
Mitchell Kaldrovich - Inn By the Sea
Jeff Landry - The Farmer's Table
David Turin - David's Restaurant & David's 388
Harding Lee Smith - The Rooms
Rich Lemoine - Cape Arundel Inn
Pierre Gignac - 98 Provence
In addition to Art of Dining, the Kennebunkport Festival features a Grand Tasting and Art Show, Pop the Kennebunks hosted by Cellardoor Winery, special After Parties and a host of other experiences that will gives guests a real taste of Maine and Maine hospitality. For more information on the Kennebunkport Festival and to keep on top of the full schedule of events as it is finalized go to kennebunkportfestival.com or follow Kennebunkport Festival on Facebook.
About Maine Magazine
Published ten times a year by The Maine Media Collective Maine Magazine (themainemag.com) is the state's definitive lifestyle publication that gives readers a fresh look at the incredible people, places, restaurants, artists, and business people who make today's Maine such a vibrant place to live. In addition, The Maine Media Collective is home to Maine Home+Design (mainehomedesign.com), Eat Maine, Art Maine, and The Brand Company – a marketing firm.
###