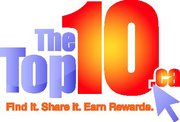 Why waste time going through thousands of websites when you can find the best of Ottawa all in one place? This service is desperately needed in today's crowded marketplace." ~ Caroline Risi
Ottawa, Ontario (PRWEB) October 19, 2011
Ottawa-based start-up TheTop10.ca is launching an exciting new search engine concept that ranks results based on user reviews and local buzz on various social media platforms. Additionally, site members can earn rewards for submitting reviews of their favorite local businesses, services and products. Ottawa residents looking for the ideal lunch spot, the best place to get a pedicure or the city's finest hotel will now have the ultimate resource to find exactly what they need in record time.
TheTop10.ca connects both residents and travelers with top local businesses, products and services in a fast, precise and intuitive format. TheTop10 works as an independent consumer network, and users are encouraged to share their experiences and reviews of local businesses, products and services on the website, as well as on Twitter and Facebook. All of these elements are compiled together to create an accurate ranking and overview of top area businesses.
This system ensures that TheTop10.ca is a fresh and accurate way to find the best of anything in Ottawa – quickly and without the clutter. Members who take the time to post reviews will be awarded with gift certificates, coupons and prizes from participating businesses.
TheTop10.ca Founder Caroline Risi is not web developer by trade, but a consumer who noticed a gap in the marketplace when she had to sort through thousands of search results in the pursuit of the best local recommendations.
Why waste time going through thousands of websites when you can find the best of Ottawa all in one place? This service is desperately needed in today's crowded marketplace." ~ Caroline Risi
Ms. Risi is planning on expanding TheTop10.ca concept to Hamilton next, and then to Toronto and Mississauga shortly after.
To celebrate the launch of TheTop10.ca, media are invited to join popular comedian and TheTop10.ca Spokesperson Mike Bullard, and BOOM FM morning hosts Joe & Mitchell, at LAGO Bar|Grill|View on October 12th from 6:00pm to 9:00pm for drinks, bites, interactive live demonstrations and much more.
"How do you sort through the clutter on the Internet today and find the best of anything? The Top 10 offers this and so much more."~ Mike Bullard
About TheTop10.ca:
TheTop10.ca is a premium search engine website that offers local and concise search results and value added incentives to end users. TheTop10.ca also provides businesses with SEO services and social media marketing expertise to maximize online and mainstream exposure.
To learn more, visit http://www.thetop10.ca
About Caroline Risi:
Originally from Deep River, Ontario, Caroline Risi has spent the better part of her adult life building an outstanding business career in Ottawa. Starting in Sales and Marketing for Sage Homes, Caroline quickly moved on to the position of Director of Marketing for the Canadian Tulip Festival. In 1999, Risi became the Director of Sales and Marketing at Novotel Hotel and held senior management positions in the hospitality industry since. In 2009, Risi got an itch for online solutions and founded the concept of TheTop10.ca, which she is excited to bring to Ottawa residents and then to all Canadians.
###