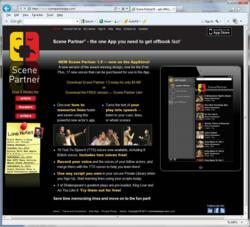 We are pleased that Scene Partner continues to be recognized for its innovation and excellence.
J. Kevin Smith - Owner, MyTheaterApps.com
Norwalk, CT (PRWEB) October 18, 2011
On the heels of multiple awards for design excellence, and a 2011 Gold CQIA Innovation Prize for its Scene Partner app, MyTheaterApps.com has been honored with a 2011 American Graphics Design Award for its interactive website. Scene Partner is a powerful new iPhone®, iPad® and iPod Touch® app that help actors with the age old problem of how to memorize lines.
Selected from over 8,000 entries, the awards honor outstanding new work of all kinds in 23 categories across all media from print and packaging to internet and interactive design. The Scene Partner website was developed with the help of design firm TFI Envision of Norwalk, CT, the winner of 14 American Graphics Design Awards in 7 categories. In announcing the Awards, Liz Ball, President of TFI Envision stated, "These awards are the result of the successful collaboration between the team at TFI Envision and their clients. Bravo to all!!"
J. Kevin Smith, owner of MyTheaterApps.com, expressed his appreciation, saying "MyTheaterApps.com is honored to be recognized by GDUSA for our successful partnership with TFI Envision on the Scene Partner campaign. We are pleased that Scene Partner continues to be appreciated for its innovation and excellence."
The Scene Partner App and its accompanying website provide a unique new tool for actors. The website provides each customer with their own Private Library to store scripts. Once these are downloaded to the App, Scene Partner merges text to speech software, voice recording and advanced algorithms to deliver a unique and innovative solution for how to learn lines.
About MyTheaterApps.com:
MyTheaterApps.com is the developer of Scene Partner, an award winning App for the iPhone, iPad and iPod Touch that helps actors learn their lines. It merges text to speech software from the Acapela Group, voice recording and advanced algorithms to provide a unique and innovative tool for actors. It was released in early November 2010. Within the first week, Apple listed it as "New and Noteworthy" on the App Store, The Wall Street Journal ran a story about the app in its App Watch columns, and Tom Cruise, the American Theater Wing (producers of the Tony Awards) and the Public Theater in NYC all tweeted about Scene Partner to their followers.
About TFI Envision, Inc.:
Since 1975, TFI Envision, Inc. has been developing branding, packaging, promotion, digital and corporate communications for small / mid size companies and Fortune 500 companies.
A media kit is available at https://www.ScenePartnerApp.com/ScenePartnerMediaKit.pdf
###