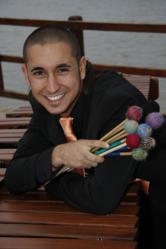 "The sound of the marimba came into my heart, and I felt at that moment that my life should be connected with this unbelievable instrument." -- Competition Winner Conrado Moya
Arcata, CA (PRWEB) October 17, 2011
Arcata's Marimba One won further recognition for the quality of its concert instruments last month when it was chosen by Conrado Moya who won the First International Marimba Competition in Cordoba, Spain.
Marimbas are large keyboard percussion instruments.
Says Carolina Alcaraz, organizer of the competition: "He impressed us with his perfect playing, great stage presence and sensitive musicality."
The jury included the great marimba soloist Katarzyna Myca who is highly respected around the world. Carolina Alcaraz explains that Katarzyna Mycka's excellence is due to the fact that she "talks about music, performance and sound and treats the marimba as a tool to express all this."
Moya won first prize: not only 3000 euros in cash, but also, significantly, a performance as soloist with the Cordoba Orchestra to play the opening concert of the season.
A busy performance schedule has him traveling throughout Europe, though he took time to reflect on his success at the competition.
Why did he choose to play on a Marimba One instrument ? "With Marimba One, everything is possible," he says. "The powerful and deep sound, the shiny, clear color, and the balance of the whole keyboard present a chance to create the best possible communication between the audience and the marimbist."
How about what the instrument means to him personally? "It was one of the most important moments of my life... The sound of the marimba came into my heart, and I felt at that moment that my life should be connected with this unbelievable instrument."
Out of curiosity, we also asked him what was his favorite food. "Pasta, of course." But even food is related to his musical passion. "I need a big quantity of energy to keep up my marimba practice!"
About Marimba One
Marimba One is the world's premier maker of concert marimbas. Located in the college town of Arcata, nestled in the Redwoods of California, the company makes custom marimbas, giving great attention to the sound that customers want on their instrument within their budget.
###