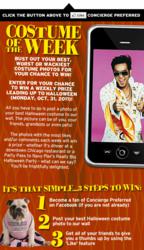 Are you looking for the best Halloween costume contest in Chicago? Then visit Concierge Preferred on Facebook and show us what you got!
Chicago, IL (PRWEB) October 18, 2011
Think you have what it takes to create the best Halloween costume in all of Chicago? Enter now with Concierge Preferred on Facebook for a chance to win.
Concierge Preferred has long been the everyman's guide to the wonders and attractions of the Windy City, and it's a good thing they're around — there's so much to see and do in Chicago that it's very easy to become overwhelmed. Concierge Preferred is about much more than just helping tourists find the best spots to spend a day or get dinner, though: they also run promotions of their own for Chicago's ordinary citizens! They've got a fantastic slate of events lined up for Halloween this year.
Currently, Concierge Preferred is hosting a Halloween contest through their Facebook page. Anyone in the city can enter, which means that anyone in the city can win! It's very easy: entrants need only to post a picture of themselves in their great costumes, and the photo on Concierge Preferred's wall that has the most "Likes" at the end of the week wins a prize. It really can't get any easier, and since the people who view Concierge Preferred's Facebook page will be choosing the winners, it's as democratic as it can get. So get dressed up, take a picture, and let the world see your creative Halloween costume skills in action!
Concierge Preferred isn't limited to just Halloween events, of course — they've been enriching Chicago for years with events of all types for all varieties of people, both visitors to the city and those who have spent their entire lives here. This is all about making the Windy City as fun as it can possibly be. There is, of course, Navy Pier for this purpose as well — Chicago's favorite amusement park, on the shores of beautiful Lake Michigan, where patrons can take a ride, enjoy a show, and have a great time. It's one of the city's crown jewels, and Concierge Preferred is proud to be a part of it.
For the best events all around Chicago, both seasonal and otherwise, Concierge Preferred is the Windy City's hub for fun things to do. People shouldn't hesitate to visit their website if they find themselves looking for a great time.
###