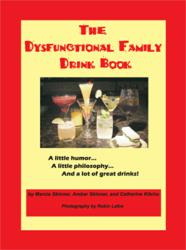 A little humor, a little philosophy, and a lot of great drinks; that's The Dysfunctional Family Drink Book! We hope you enjoy our cocktails and funny family stories.
Laguna Niguel, CA (PRWEB) October 19, 2011
It started out as a family project to work through some issues with their own wacky dysfunctional family on one fateful Christmas Eve. The three authors related by blood and marriage bonded together to invent some new cocktails and found a way to use humor to deal with their own family and celebrate dysfunctional families everywhere (and everyone seems to have them). The result was The Dysfunctional Family Drink Book, published in July 2011 by Pele Publications.
The idea for this funny cocktail book was originated by lead author Marcia Skinner, when her extended family gathered at her house for a long holiday weekend, and her mother decided to go berserk during Christmas Eve dinner. To cope with the meltdown, Marcia along with daughter Amber Skinner and sister-in-law Catherine Kitcho got out the blender and created some delicious cocktails. One of those was christened "The Christmas Eve Massacre", which became the signature drink in the book. Says Marcia, "Sometimes during these dysfunctional family situations, all you can do is laugh – or drink. In our family, we like to do both. I thought; why not create a book with humor and cocktail recipes that other dysfunctional families can relate to? So, we did. We decided to tell our dysfunctional stories so people can laugh with us, or at us. Either way is fine!"
The Dysfunctional Family Drink Book contains 76 original cocktails, each with a unique name, a gorgeous photo, an easy to follow recipe, and a little family story to make you laugh. The drink titles and funny stories capture various family situations, such as "Banana Split and So Did He", "Family Feud Fizz", "Unrelenting Guilt", "Sibling Rivalry", and "Don't Make Me Stop This Car".
Catherine Kitcho, President of Pele Publications, is a co-author and also the book's publisher. "People are buying this as a gift book – for bridal showers, birthdays, wedding gifts, and now, as a holiday gift. I expect this will be a very popular gift this holiday season, and we are already receiving orders for multiple copies," says Catherine.
The book is beautifully packaged as a hardcover with wire-o binding on the inside to lie flat, and has 195 full color pages. The ISBN number is 978-192993612-0. It is available at a special Early Bird price at the book's website, http://www.dysfunctionalfamilydrinks.com, which has a secure PayPal order system that accepts credit cards. It is also available at full list price from BarnesandNoble.com (search by ISBN number).
###