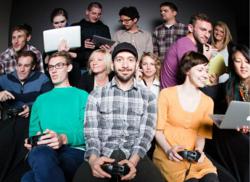 "We received a surprisingly enthusiastic response, and none more so than for Mike Wienick." - Willamette Week
Portland, OR (PRWEB) October 18, 2011
QualitySmith Inc. President Mike Wienick was awarded the title of "Portland's Best Boss" for 2011 by Willamette Week, a Pulitzer Prize-winning newspaper based out of Portland, Oregon.
In recognition of his achievements in cultivating a culture of success with the unique approach that work should simultaneously be a fun and success-driven environment, Willamette Week bestowed the honor upon Wienick in its Oct. 12 print and on-line editions.
Wienick, who has experienced a meteoric rise since entering the marketing industry in 2004, helped transform QualitySmith Inc. from a company in dire financial straits to a top player in the industry in less than two years.
"I'm honored to have been selected as 'Portland's Best Boss' in a city with such a wide-ranging and diverse talent pool as Portland, Oregon," Wienick said. "This recognition is further reinforcement that we're doing great things at QualitySmith that are being recognized by the community."
Willamette Week's selection process included asking readers to send 50 word blurbs to describe their choice for "best boss."
"We received a surprisingly enthusiastic response, and none more so than for Mike Wienick," the Willamette Week said.
QualitySmith Inc. is a multimillion-dollar internet marketing company operating out of offices in Portland, Oregon, and Walla Walla, Washington. QualitySmith Inc. connects home and auto owners throughout the country with reliable local contractors. The company's client base includes hundreds of service professionals throughout the United States who have helped thousands of people find the best services for their auto, home, and financial needs.
Wienick's contributions to QualitySmith Inc. are immeasurable.
QualitySmith Inc. hired Wienick in October, 2009, as its Search Engine Marketing Manager. Wienick, who began his career with QualitySmith working out of his living room in Portland, Oregon, transformed the company's struggling marketing strategy into a campaign considered by many within the industry to be among the most cutting edge and effective methods.
As a direct result of Wienick's marketing savvy, Wienick rapidly expanded the marketing team from a living room operation to its current 15-person marketing team in Portland, Oregon. Today, QualitySmith Inc. employs over 40 people in Portland, Oregon, and Walla Walla, Washington, with intentions to continue adding staff throughout 2011.
It was not for business savvy alone that led to Willamette Week's selection. Wienick was noted for his reputation as a charismatic, amicable, and understanding boss whose policies include an office atmosphere where employees are encouraged to bring their pets and where video games are an encouraged activity to break up the workday. Games including ping-pong and basketball have become favorite pastimes within the office, and employees can often be seen zipping around the office on Razor™ Scooters.
"At the end of the day our ultimate goal as a company is to help home and auto professionals grow their business while simultaneously helping people in need of those services make the best possible decisions," Wienick said. "I believe we can do this best through core workplace values: having fun, learning, and attaining results."
QualitySmith Inc. has provided home and auto repair and replacement services since 2001 and stands today as a leader in the field. Visit QualitySmith to learn more.
###