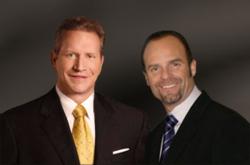 We want to be able to offer our patients the highest quality of care meaning: the least invasive techniques, with the highest cure rate and the lowest rate of complications.
Atlanta, GA (PRWEB) October 25, 2011
A 2011 FDA warning in the use of transvaginal mesh for the treatment of vaginal prolapse has been posted in an attempt to help educate patients as to the appropriate information and informed consents needed prior to engaging in surgery. With the heightened concerned from patients needing to undergo surgery for stress urinary incontinence, the Atlanta Center for Laparoscopic Urogynecology, the office of John R. Miklos, MD and Robert D. Moore, DO, has re-introduced the laparoscopic Burch procedure.
The Burch procedure is named after its inventor John Burch of Nashville, TN and was first described in the medical literature in 1961. The Burch was one of the top operations in the world between the mid 1960's – mid 2000's. The Burch fell out of favor when the less invasive TVT sling was introduced into the U.S.A. in 1998 from Sweden by surgeons such as Vincent Lucente MD, Alan Garely MD, Karl Klutke MD, Yitzak Berger MD and John R. Miklos MD. The TVT sling gave offspring to the TOT sling and the mini incision slings between 1998 – 2010. These slings were less invasive, with less pain, less blood loss, easier recovery and small incisions with equivalent cure rates. It is easy to see why surgeons and patients were attracted to these less invasive techniques. That was until 2011 and the release of the 2011 FDA warning on the use of transvaginal mesh. Per Dr. Miklos and Dr. Moore, the fear of mesh has stimulated a resurgence of the traditional and laparoscopic approach to the old gold standard Burch procedure.
Drs. Miklos & Moore have international expertise and experience utilizing the Burch procedure in the treatment of their patients. Because of their vast experience in the laparoscopic Burch and/or paravaginal repair, Dr. Miklos and Dr. Moore's complication rate is lower than most physicians. Most recently patients who have had mesh complications from other mesh surgical procedures have come to Drs. Miklos and Moore for mesh removal and then return for the original "gold standard" incontinence procedure known as the Burch.
# # #