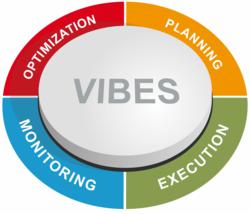 Our outstanding baggage handling system installed at Sacramento Airport will help the Sacramento International Airport to be the airport of choice for Northern California
Atlanta, GA (PRWEB) October 18, 2011
Vanderlande Industries completed the baggage handling system for Sacramento International Airport's new Terminal B. The brand new terminal has opened for business and had its first arrivals and departures. Vanderlande was assigned to deliver the new baggage handling system including an inline screening system and the controls system. "Our outstanding baggage handling system installed at Sacramento Airport will help the Sacramento International Airport to be the airport of choice for Northern California," explains Henk de Groot, Vice President Operations.
The new Terminal B is designed to meet current and future air travel demands with a 669,000 square foot multi-story terminal. The new terminal offers 19 aircraft gates, a two-level roadway system and an international arrivals facility. Vanderlande Industries delivered the complete baggage handling system. This system feeds six screening machines, includes four groups with ticket counters and an inbound system for arriving passengers including four claim carousels and an oversized baggage line. During the very first day of live operations the new system handled over 6,000 bags and performed as expected.
In addition to the new system in the new terminal, Vanderlande also expanded the existing system in Terminal A. The security screening reporting in the Terminal A was upgraded to the latest standards which allows the TSA to have similar reporting available for various inline screening systems on this airport. The baggage handling system will guarantee smooth baggage flow and an improved passenger experience. The key to smooth baggage flow is not only the hardware but also the software. Vanderlande has shown to be excellent when it comes to design and implement controls software for screening baggage handling systems. Henk de Groot states "Including this project, we have delivered baggage systems with screening - working with Vanderlande's own control systems - in 15 airports in North America."
For the upgrading and the new terminal, Vanderlande Industries used their own Vanderlande Industries Baggage Execution Systems (VIBES) software including the proprietary Sortation Allocation Computer (VIBES.SAC). This flexible and modular baggage handling software enables the complete operational management of baggage handling systems. VIBES is compliant with latest regulations of the TSA, the agent of the US Department of Homeland Security that oversees inline screening of baggage. Henk de Groot explains, "Our VIBES controls system forms an integral part of our baggage handling solutions. The system controls not just the mechanical equipment, but the total handling process including routing, tracking & tracing and gathering and visualizing process information. The feedback we receive from clients is that our VIBES software provides the best and most useful reports providing maintenance team with the best information they can get."
Vanderlande Industries leading baggage handling solution provider
Vanderlande Industries in Atlanta serves the baggage handling market at airports as well as the materials handling system market for distribution and parcel & postal in North America. As far as the baggage handling market, Vanderlande's systems can include self-check-in, high-speed transportation, integrated Hold Baggage Screening, baggage carousels and more. Automated Baggage Storage can be integrated to handle bags by priority. Vanderlande Industries offers tailor made solutions that improve the competitiveness of its customers. The headquarters for North America is located in Atlanta, GA. USA. Vanderlande Industries employs over 2000 employees in 15 countries. Please visit our website at http://www.vanderlande.com.
###