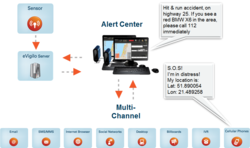 Our aim is to increase the population's sense of personal security, alongside with the enhancement of the municipalities' ability to manage incidents using real-time interactive communication with the population
Paris, France (PRWEB) October 18, 2011
eVigilo Ltd., the worldwide leader for public alert and information systems, introduces eVigilo City Alert, its latest solution for local authorities, municipalities and communities to alert and inform the local population.
In today's multi-media environment, local authorities and municipalities are looking for new capabilities to enhance their Smart City and Safe City offerings through integrated alert and information systems.
eVigilo City Alert enables the authorities to distribute geo-targeted alerts and information in real-time across all available channels such as mobile networks, social networks, emails, web browsers ,desktops, billboards etc.
eVigilo CEO Guy Weiss says: "Our aim is to increase the population's sense of personal security, alongside with the enhancement of the municipalities' ability to manage incidents using real-time interactive communication with the population".
eVigilo's interactive applications include panic alert buttons that allow citizens to send distress messages to the emergency response centers, including their location, and other information such as photos, videos and files.
eVigilo City Alert receives input from various sources, including existing sensors, such as fire or flood alert sensors as well as from human interface. In addition, eVigilo City Alert integrates with the municipalities' ERP and CRM systems. Thus, eVigilo City Alert is a state of the art incident management tool for municipalities, for handling both every day issues as well as emergency situations.
About eVigilo
eVigilo designs and develops the industry's only fully-integrated mass alert platform that can reach millions of people in just seconds, to substantially improve personal safety and save lives. Supporting communication between multiple alert channels, eVigilo line of products are both holistic and flexible alert and information platforms. Thus, eVigilo provides the most effective and efficient turnkey solution for mass alert systems, used by governments, homeland security agencies, municipalities and industrial organizations. http://www.evigilo.net
###