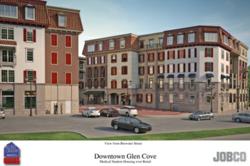 Long Island, NY (PRWEB) October 20, 2011
When Jobco Realty and Construction Owner Michael Pontillo was inspired to enliven the Glen Cove Village Square in the grand tradition of historic European piazzas, he looked to the award-winning architectural firm of Axelrod & Cherveny to bring his vision to reality. "The precedent setting architecture and site plan design for the Piazza @ Glen Cove will establish a new benchmark for the many downtown areas across Long Island that are in need of revitalization and/or redevelopment," stated Glen Cherveny, managing partner of Axelrod & Cherveny Architects and GRCH Architecture.
The Piazza @ Glen Cove features ground level commercial space and three-four stories of housing above the retail. The housing consists of 142 apartments – ranging in size from 750 sq. ft. for a one-bedroom, affordable apartment to 1,200 sq. ft. for a two-bedroom, market rate apartment. There will be 28,000 sq. ft. of retail space for service-oriented businesses as well as parking for 107 cars in an underground parking garage. The centerpiece of the Piazza @ Glen Cove will be a decorative brick public plaza. Now that the City of Glen Cove has granted zoning approval under its Master Plan, the mixed-use development is expected to break ground in early 2012 with completion slated approximately 18 months after that.
The design for the Piazza @ Glen Cove already has received a "Creating Sense of Place" Award from Vision Long Island. According to the organization, "The revitalization of Village Square seeks to attract and keep young professionals on Long Island by providing a more compact, vibrant and walkable 'place" with new business and job opportunities."
In addition to their innovative architectural design for the Piazza @ Glen Cove, Axelrod & Cherveny and GRCH Architecture have notably designed numerous award-winning residential homes, office and professional buildings, industrial parks and Long Island lifestyle communities, including Meadowbrook Pointe in Garden City, among others. Cherveny additionally provides expert media commentary on various architectural design and development topics. For more information, contact Axelrod & Cherveny and GRCH Architecture at 631.864.4411 or http://www.axelrodcherveny.com
Axelrod & Cherveny Architects
66 Harned Road
Commack, NY 11725
Contact:
Judy White
631.730.2710
516.236.4245
# # #