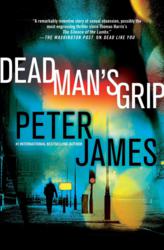 This is a wonderful award that strikes at the very heart of what good books are all about
(PRWEB) October 19, 2011
Murder mystery author Peter James was honored with the ITV3 People's Bestseller Dagger Award for his thriller Dead Man's Grip, the latest entry in his popular Roy Grace detective series. ITV3 is a popular entertainment television channel in the United Kingdom specializing in crime dramas and mystery series. The award was decided by public vote through ITV3's website, and saw Peter James go head-to-head for the award against fierce contenders and best selling authors Lee Child, David Baldacci, Peter Robinson and Mark Billingham. The results of the 6-week voting period were announced on ITV3 during a special awards ceremony televised on October 11, 2011. As a special thank you for the award, Peter James treated many of his fans to fish and chips on the Brighton Pier, notable as the setting for a key and chilling scene in Dead Man's Grip. To learn more about Peter James, please visit http://www.PeterJames.com.
James said he "could not be more thrilled" to win. "This is a wonderful award that strikes at the very heart of what good books are all about: enthralling readers with gripping, page-turning fiction – and decided not by an elite committee but by the very people who read and loved them – the general public," he said. "I don't think there can be a higher accolade for any author."
The UK paperback release of Dead Man's Grip followed closely on the heels of the winning vote. Like James' previous Roy Grace novel, it shot straight to #1 on the UK best seller charts, selling close to 30,000 copies in the first week.
Peter James is one of the world's best selling crime and thriller novelists. The murder mystery writer has developed a close working relationship with the Sussex, UK police over many years, spending an average of one day a week with them. His writing reveals a unique insight into the reality of modern day police work and forensic science. He has also carried out extensive research with police in Moscow, Munich, Paris, Melbourne, Sweden, New York and Romania, and regularly attends international police conferences to ensure he is at the cutting edge of investigative police work.
Dead Man's Grip, which will be published in hardcover in the United States in November, 2011 by Minotaur Books, tells the chilling story of Carly Chase, who is traumatized after being one of the drivers involved in a traffic accident that kills a teenage student. After the accident, she receives news that turns her entire world into a living nightmare: the drivers of the other two vehicles involved have been found tortured and murdered, and there is a connection to a New York Mafia family.
"This is the seventh novel I have written featuring Detective Superintendent Roy Grace, and I am thrilled to say that the series has now sold over six million copies worldwide and has been translated into thirty-four languages," James remarked. His loyal readers around the globe ensured the vote for the People's Bestseller Dagger Award, and spread the word through Twitter, blogs and the author's very active Facebook page http://www.facebook.com/peterjames.roygrace, which has recently been gaining fans at a rate of almost 500 a week.
The previous title in the Roy Grace series, Dead Like You, is available in the United States from Minotaur Books in hardcover and paperback, and the first Roy Grace novel, Dead Simple, is available in a Kindle edition. Dead Like You tells the chilling story of a serial killer with a fetish for women's high heels. Immediately hailed in coast-to-coast reviews, Dead Like You was singled out for "The Must List" by Entertainment Weekly, and received this superlative praise from Patrick Anderson of the Washington Post: "...a remarkably inventive story of sexual obsession, possibly the most engrossing thriller since Thomas Harris's 'The Silence of the Lambs'."
Editor's Note:

Review copies of Dead Like You available now on request
Dead Man's Grip review copies may be requested in advance
Interviews with Peter James encouraged
###