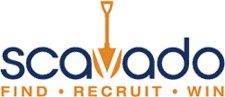 As a recruiter, I was spending more hours writing search strings than talking to prospects. I knew there must be a more efficient way to search - Lori Fenstermaker, Scavado's founder and CEO
Denver, CO (PRWEB) October 18, 2011
Recognizing that HR search and sourcing are largely stuck in the 90s, recruiting expert Lori Fenstermaker today announced the official launch of Scavado, a revolutionary web-based sourcing solution that makes Boolean search string training for recruiters obsolete. Formerly known as AutoSearch, Scavado is a simple, yet powerful, alternative to costly Boolean search training that quickly yields relevant prospects to recruit.
"Today, the Internet offers an abundance of information to use when sourcing job candidates, but as a recruiter I was spending more hours writing search strings than talking to prospects. I knew there must be a more efficient way to search," said Lori Fenstermaker, Scavado's founder and CEO. "Scavado identifies the most qualified leads—including both active unemployed and passive job prospects—by automating the search string process and giving recruiters a leg-up on their competition."
Looking for a tech entrepreneur to help bring her boutique software firm to the next level, Fenstermaker tapped Daniel Estrada to steer the evolution of the product as Scavado's Chief Technology Officer and Product Manager. Estrada has more than 13 years of technology and entrepreneurial experience including starting a number of technology businesses and consulting for several Fortune 50 companies. Most recently, he was president of a legal technology intelligence and e-discovery firm. Additionally, he has been recognized as one of the top "40 Under Forty" business professionals by the Grand Rapids Business Journal in 2009 and 2010 and was named "Entrepreneur of Distinction" by Corp! Magazine.
Scavado is offered as a stand-alone solution or in combination with Sourcer-in-a-Box, which helps companies evolve their recruiting processes to a more proactive strategy. The technology behind Scavado uses proprietary meta search algorithms and yields instant ROI benefits including dramatically cutting costs per hire, allowing recruiters to work outside their specialty to assist with job requisition loads and quickly sourcing targeted prospects for hard-to-fill positions.
For more information on Scavado and to determine if Scavado is right for your organization, take the Scavado Compatibility Quiz.
About Scavado
Scavado is a web-based sourcing tool that allows recruiters to easily search the web for passive candidates, compile their contact information, and build a comprehensive pipeline of prospects to recruit. Scavado does not search job boards. Scavado automates the time-consuming process of writing Boolean search strings and applying them manually to each site. Headquartered in Denver, Colo., Scavado is a privately funded venture. For more information, visit http://www.scavado.com.
###