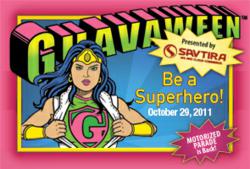 "We are thrilled to be presenting sponsors of this year's Guavaween. It's an excellent opportunity for our organization to connect with neighboring companies," said Savtira COO, Mike Hansen.
Tampa, FL (PRWEB) October 18, 2011
The soothing smell of brewing Cuban coffee wafts in the air as the hustle and bustle of industrial trucks and working professionals hit the busy brick streets of Ybor City. In just two short weeks, the sun will go down but those same brick streets will fill-up with costumed celebrators and "superheroes" for this year's superpowers-themed annual Halloween street party and concert – Guavaween, hosted by the Ybor City Chamber of Commerce and presented by Savtira Corporation, a new local B2B cloud commerce solutions company.
"We are thrilled to be presenting sponsors of this year's Guavaween. We are fairly new to the area but we've been calling Ybor City home for nearly a year," says Savtira COO, Mike Hansen. "Guavaween is an excellent opportunity for our organization to connect with neighboring companies. Of course we are looking forward to experiencing the famous Halloween celebration for the first time as well!"
Ybor City Chamber of Commerce has taken over producing Guavaween this year. The theme, "Be a Superhero!" represents the local attitude of the developing and ever-expanding popularity of the historic district, Ybor City – including the businesses and corporations that are becoming established in the region.
"Savtira has made a big splash in our community, opening job opportunities to our residents and showing great enthusiasm for participation in civic events such as Guavaween," says Ybor City Chamber president, Tom Keating. "We see the company setting roots in the Tampa Bay area, so naturally we were elated with their decision to become presenting sponsor of this year's celebration."
Savtira Corporation has continually expanded its workforce and presence in the local community, recently being selected as an award finalist for the Tampa Bay Technology Forum's 2011 Industry Achievement Awards Gala. The company's CEO, Tim Roberts, was also a guest speaker for the Ybor City Chamber of Commerce September luncheon at the Columbia Restaurant. Savtira is a developing software-as-a-service (SaaS) Cloud Commerce solutions company using e-commerce as the platform to sell and distribute physical and digital goods in one unified shopping cart. Savtira builds e-stores, using cloud technology, for companies like online retailers and is also building carrier-class streaming capabilities. Savtira also offers partners access to a multi-million-item catalog of digital media and physical goods.
Guavaween, named after Tampa's nickname, "The Big Guava," is the annual Latin-flavored Halloween celebration, which is taking place Saturday, October 29 beginning at 3 p.m. in Ybor City. More than 20 years ago, Guavaween became one of the largest festivals in Ybor. Back by popular demand, the Mama Guava motorized parade will make its way down Seventh Avenue. The parade, led by Mama Guava, features floats and costumed characters tossing beads to spectators. Savtira Corporation is planning its special presenting sponsor float to be revealed on Guavaween night.
Tickets can be purchased at http://www.Ybor.org for $12. Parking is available at Ft. Brooke or Tampa Port Authority parking garage – with a ride on the TECO Line Streetcar System. Streetcar hours are from 11 a.m. to 2 a.m. on Saturday. A temporary "end-of-the-line" will be in front of the trolley car-barn in Ybor City from 3 p.m. to 2 a.m. Exact change is required to purchase fare cards onboard the streetcar. Unlimited ride passes are available for purchase by calling HART's information line at 813.254.4278 or by visiting http://www.tecolinestreetcar.org.
About Ybor City Chamber of Commerce
The Ybor City Chamber of Commerce Visitor Information Center is located at Centro Ybor and provides a resource to all businesses and organizations in the historic district including restaurants, museums, theaters and attractions, retail stores and more. Residents and visitors rely on the chamber as a source for information and referrals for the Ybor City area. Ybor's Chamber offers its members various promotional opportunities and a friendly environment for doing business. Monthly membership luncheons and evening events open a venue to network. Members also have the opportunity to post announcements and receive the bi-monthly newsletter, La Sétima. For more information, please visit http://www.Ybor.org.
About Savtira Corporation
Based in Tampa, Florida, Savtira is in the business of digital distribution with a software-as-a-service (SaaS) e-commerce platform that is a turnkey system for the distribution, marketing, merchandising, and selling of both digital media and physical goods in a single store and a single, unified shopping cart. Savtira-powered stores are designed to meet the specific needs of retail partners so no two e-stores are alike. All Savtira e-stores are custom-branded for our partners. Extra features and services are offered on an à la carte basis. Savtira is also building the next carrier-class "Entertainment Distribution Network" (EDN), streaming all digital media from the cloud, with a feature set that eclipses anything on the market. For more information on Savtira, visit: http://www.Savtira.com or call 813.402.0123. Follow us on Twitter at: http://twitter.com/savtira.
Savtira is a registered trademark. All other product and service names mentioned are the trademarks of their respective companies.
###