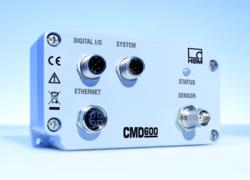 Download free software, plus relevant examples now!
(PRWEB) October 18, 2011
Force measurement technology is an important component of machines and systems, both in production and automation technology as in research and development. The measurement technology specialist HBM offers piezoelectric force sensors and the corresponding CMD600 type charge amplifiers for those applications where rapid and reliable force measurement is required. In the sensors, the force being measured generates a charge due to the piezoelectric effect which is amplified by the CMD600 charge amplifier and then the measured value is output via a rapid signal output with up to 30 kHz. The peak and limit value outputs integrated in the amplifier can be used for the rapid evaluation of the force response.
The force measurement must often be integrated in a higher level control system in more complex machines and systems. CMD600 offers an Ethernet interface for such cases and HBM offers various software solutions for automation technology. The first option is connection to a PLC via the TCP/IP channel of the real-time Ethernet protocol Profinet®. In addition to transmission of measured values to the PLC, diagnosis and configuration data can also be transfered. This means that the CMD600 can be controlled and parameterized from the PLC program. A platform that is particularly frequently used in research is Software Labview® from National Instruments. This measurement technology programming tool allows the user to create and run complex measurement technology tasks and processes. HBM also offer the appropriate software solution here, with which the full functionality of the CMD600 amplifier is available as so-called virtual instruments (VIs) in Labview®. The complete software, together with relevant examples, is available as a free download in the HBM Support Area under http://www.hbm.com/en/menu/products/industrial-amplifiers.
HBM Test and Measurement
Founded in 1950, HBM is today the technology and market leader in the field of test and measurement. HBM's product range comprises solutions for the entire measurement chain, from virtual to physical testing. The company has production facilities in Germany, USA and China and is represented in over 80 countries worldwide.
Media Contact:
Chantelle Thompson
Tel.: +1 800-578-4260
Fax: +1 217-328-6576
Email: chantelle(dot)thompson(at)hbm(dot)com
###