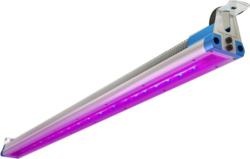 LumiGrow fits our strategy because it improves our yields and our margins. We'll see 50% energy savings compared to T5 fixtures. LumiBar will pay back our investment in 17 months.
San Antonio, TX (PRWEB) October 18, 2011
LumiGrow, Inc., the leading provider of smart horticultural lighting, today announced the launch of the LumiBar solution. The LED-based LumiBar system delivers the optimal spectrum and light level for multilayer crop production without the high energy demand and uneven light quality inherent to conventional fixtures. LumiBar customers boost crop yields, reduce costs and gain productivity.
Applications for the LumiBar solution include seedling production and agricultural research. The LumiBar solution is ideal for use in controlled environments including climate cabinets, growth chambers and production units.
The LumiBar system provides numerous advantages to growers, researchers and facility managers. The solution provides 50 percent more photosynthetically active radiation (PAR) per Watt and consumes as little as half the energy required by the fluorescent and incandescent fixtures it replaces. Fluorescent and incandescent lamps are based on technology intended for general illumination, not plant growth. In emitting portions of the color spectrum that plants can't use, these lights consume far more power than necessary. The LumiBar system also operates at lower temperatures, minimizing environmental cooling requirements.
The LumiBar solution eliminates the light quality degradation issues posed by fluorescent and incandescent fixtures. Degradation is of concern to scientists because it presents an uncontrolled variable that potentially compromises research. By contrast, the LumiBar solution provides constant and uniform lighting for more than 50,000 hours, eliminating the need for frequent bulb replacement.
The LumiBar system delivers precise lighting control. Users may apply default settings or tune the LumiBar system to their preferred light intensity and color ratio for every stage of crop growth. A white light setting enables growers to assess crop characteristics.
Additional key features of the LumiBar solution include:

Tunable PAR-centric (400 to 700nm) color ratio
Far Red 740nm LEDs (optional configuration)
Fully adjustable intensity
Uniform coverage area of 48" x 18" when mounted 12" - 16" above plants
0 - 200 micromoles at 12" above plants (fully adjustable)
175 Watts
Efficient LumiGrow PowerDrive™ LED controllers
All-in-one simplicity
RoHS compliant
LumiGrow Customer Support
Energy efficiency rebate eligible
"We're committed to growing produce sustainably, from both environmental and financial perspectives," said Gail Robin, general manager, Golden Point Organic Produce. Ms. Robin continued, "LumiGrow fits our strategy because it improves our yields and our margins. We'll see 50 percent energy savings compared to T5 fixtures. LumiBar will pay back our investment in 17 months."
"Our customers in academia and industry require superior lighting solutions that free them from frequent light bulb replacement and high electrical bills," said LumiGrow CEO Kevin Wells. He added, "We're pleased to bring the advantages of LumiGrow lighting to multilayer applications."
About LumiGrow, Inc.
LumiGrow, Inc., the leader in smart horticultural lighting, enables commercial growers and agribusinesses to reduce energy costs, achieve operational efficiencies and improve crop yield. LumiGrow offers a range of third-party proven solutions for use in greenhouses, vertical farms and scientific research chambers. LumiGrow solutions are eligible for energy efficiency subsidies from Pacific Gas & Electric, Puget Sound Energy and other utilities. The Company's 500 commercial and institutional customers include Dow AgroSciences, Duke University and the USDA. Headquartered in Novato, California, LumiGrow is privately owned and operated. For more information, call (800) 514-0487 or visit http://www.lumigrow.com.
LumiGrow is a registered trademark of LumiGrow, Inc. All other marks are the property of their respective owners.
###