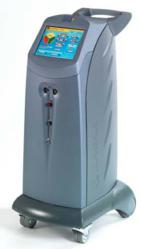 With Vision One we are taking yet another step forward by launching a modular platform that is designed to grow with the needs of our customers, along with advancements in technology.
Santa Clara, CA (PRWEB) October 19, 2011
Lumenis Ltd., the world's largest medical laser company for ophthalmic, surgical and aesthetic applications today announces the introduction of Vision One, a scanner-ready, modular, multi-wavelength, photocoagulation laser platform for the Ophthalmology market.
"Lumenis has a long history of product innovation," said Dov Ofer, Chief Executive Officer. "We are pleased to offer yet another technological advancement, bringing high levels of patient satisfaction and treatment efficacy, as well as great value to our hospital, clinic and physician partners."
Vision One™ is a new multi-wavelength laser built as separate modules, and therefore offers general ophthalmologists and retina specialists a customized solution of 1, 2 or 3 modules (green 532 nm, yellow 577 nm and red 659 nm) for optimal clinical outcome.
Despite being modular, its design is seamless and is contained within a single sleek chassis and one control unit for all features and functions.
With the ability to choose from multiple Laser wavelengths, that also differ in their penetration characteristics, the Vision One system allows the ophthalmologist to select a specific wavelength that will reach and be maximally absorbed by the target chromophore, while being minimally absorbed by competing chromophores.
Offering a customized, upgradeable, state-of-the-art system that is compatible with a wide variety of slit lamp models, endo-probes, and LIO's, the Vision One will also be compatible with future Lumenis products currently in the pipeline. Such products include additional wavelength modules, specialized lasers such as the highly-anticipated SRT (Selective Retina Therapy) and a unique Scanning LaserLink, which will offer full multi-spot pattern scanning photocoagulation capabilities.
Vision One operates via a new intuitive touch-screen user interface and/or by a remote control pad. In addition, it is equipped with a unique voice confirmation feature that allows the user to change any of the key parameters, while receiving a vocal confirmation of the dialed choices. This feature gives extra assurance both in the OR, and in the outpatient clinic – allowing the treating physician to modify parameters without having to shift view from the treatment site to the control panel.
Mr. Kfir Azoulay who heads Lumenis Vision's Global Marketing Organization comments, "The launch of Vision One represents a significant milestone for Lumenis. Its predecessor product, the Novus® Varia™, has evolved into one of the leading multi-wavelength retinal photocoagulation laser systems in the world, and probably the highest selling product globally in its category. With Vision One we are taking yet another step forward by launching a modular platform that is designed to grow with the needs of our customers, along with advancements in technology.
In other words, ophthalmologists can customize Vision One now to meet their current needs, while having the ability to upgrade or add additional wavelengths and modules in the future, depending on their specific needs or as soon as those become commercially available."
Mr. Azoulay adds that, "The Vision One underscores our commitment not only to the 'here and now', but also to the future. We have actually designed this product while keeping our technological horizon in mind, and by ensuring that it is made compatible with the exciting innovations that are in the Lumenis pipeline."
Dr. Pazit Pianka, a Senior Ophthalmologist and the Medical Director of Lumenis Vision, commented: "Thanks to its modular design, Vision One offers ophthalmologists the ability to grow with their needs. I am particularly excited about pipeline modules which will be made available for Vision One in the future, such as Selective Retina Therapy, which is now undergoing clinical trial, the Scanning LaserLink, and several others that we will disclose over the coming months."
About Lumenis
Lumenis Ltd., the world's largest medical laser company, is a global developer, manufacturer and distributor of laser and light-based devices for surgical, ophthalmic and aesthetic applications, with more than 800 employees worldwide. Lumenis has over 250 registered patents, over 260 FDA clearances, an installed base of over 30,000 systems and a presence in over 100 countries. For more information about Lumenis and its products please visit: http://www.lumenis.com
For further information contact:
Michelle Maydan
Director of Corporate Communications
1-866-569-0597
+972-4-959-9004
Lumenis and its logo and the Vision One product name are trademarks or registered trademarks of the Lumenis Group of Companies.
# # #