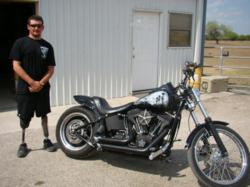 I don't blame the Marines or the war for my injuries...
Longwood, Florida (PRWEB) October 19, 2011
Chopper Design Service, maker of the LegUp LandinGear motorcycle stabilization system, has just completed a heart-warming project. A young Marine, wounded in Afghanistan, contacted C.D.S. to see if their product could help him realize his dream of riding a motorcycle after his injuries.
Justin Rokohl, a Marine, soon found out that Chopper Design and a host of others were not only going to get him back on his bike, but were going to donate everything it took to do so! This young man's Patriotism and his enthusiasm took over the project. The transformation was documented on 'YouTube', so that people can see what an endearing man Justin is. A Campaign to get this video to go 'Viral' is underway. The company is asking all that see it, spread the word about the video. The end result will be raised awareness of our fighting men & women and the sacrifices they make for this country.
For more details about this project, see JUSTIN.
Chopper Design Services manufactures the LegUp LandinGear, motorcycle stabilization system. This retractable wheel system helps riders maintain their balance as they stop, start and manuever at slow speeds. The company website is at LandinGear.com
###