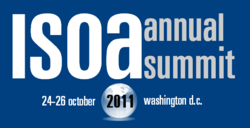 With our strongest program of keynote speakers ever, as well as timely panels on critical topics, this event is vitally important for anyone doing business in the stability operations industry
Washington, D.C. (PRWEB) October 17, 2011
ISOA Members and conference participants from around the world are preparing for the 2011 Annual Summit, which kicks off next week with a networking lunch at the Ronald Reagan International Trade Center. Spaces are still available and registration is open.
The Annual Summit offers insights and partnership opportunities essential for the success of any business operating in conflict, post-conflict and disaster relief environments. The Summit includes key policy-makers, discussions on the critical issues facing the stability operations industry, networking opportunities, a summit dinner and an exhibition.
"This year's Annual Summit is shaping up to be our most valuable yet," says ISOA President Doug Brooks. "With our strongest program of keynote speakers ever, as well as timely panels on critical topics, this event is vitally important for anyone doing business in the stability operations industry."
Highlights include:
Jack Straw, UK Foreign Secretary under Prime Minister Tony Blair from 2001-2006
Ike Skelton, former long-time Chair of the House Armed Services Committee
Chris Shays and Michael Thibault, Co-Chairs of the Commission on Wartime Contracting
Lt. Gen. Robert Van Antwerp, Former Commanding General of the U.S. Army Corps of Engineers
Ambassador Eric Edelman, Former Under Secretary of Defense for Policy
Ambassador David T. Johnson, Former Assistant Secretary of State for International Narcotics and Law Enforcement Affairs
The ISOA Annual Summit is the premier event of the stability operations industry with key speakers and attendees from government, military, non-governmental organizations and the private sector. A detailed agenda and more information about the Summit are available online at http://www.stability-operations.org/summit2011.
The ISOA Summit is sponsored by Mission Essential Personnel, Dyncorp International, SOC, LLC, Triple Canopy, Crowell & Moring, L-3 MPRI, PAE, Inc., Olive Group and EOD Technology.
Summit sponsorships, exhibitor spaces and advertising opportunities are still available and can be found on the event website, or requested from Melissa Sabin at msabin(at)stability-operations(dot)org.
# # #