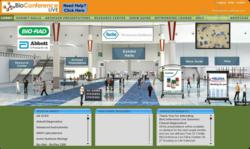 BioConference Live is a high efficiency way for the life sciences industry to collaborate. I look forward to delivering the Keynote speech at the upcoming Fall Program. - Kevin Hrusovsky CEO Caliper Life Sciences
Yorba Linda, CA (PRWEB) October 24, 2011
BioConference Live, the world's largest producer of online-only conferences bringing together life science professionals and experts, kicks off tomorrow Wednesday October 26th at 10:00 AM Eastern. The conference will continue for two days through Thursday October 27th at 9:00 PM Eastern.
BioConference Live features live video keynote and track presentations where attendees can have their question answered by presenters in real time. The event features a virtual exhibit hall and a networking lounge to interact with industry experts and colleagues. BioConference Live is conveniently held online for free, and is easily accessed from any computer, making it time efficient and cost effective to attend.
BioConference Live Summer will feature case studies in topical areas such as Cancer Research, Drug Discovery, Reading & Writing Genomics, Next Generation Sequencing, Antibody Based Proteomics, Pharmacogenomics, Personalized Medicine, Biotherapeutics, Social Media & Life Sciences, and much more.
Speakers Include:

George Church, Ph.D., Professor of Genetics, Harvard Medical School, Director of the Center for Computational Genetics, Harvard Medical School
Kevin E. Hrusovsky, M.B.A., President and Chief Executive Officer, Caliper Life Sciences
Steve Sommer, M.D., Ph.D., Founder and President, MEDomics LLC
Brian Van Ness, Ph.D., Professor and Department Head, University of Minnesota, Masonic Cancer Center
Steve Turner, Ph.D., Founder and Chief Technology Officer, Pacific Biosciences
J. Patrick Vandersluis, Ph.D., President, HealthRx Corp
Joffre Baker, Ph.D., Chief Scientific Officer, Genomic Health, Inc.
Shawn Baker, Ph.D., Curator, BlueSEQ's next generation sequencing Knowledge Bank
Anna D. Barker, M.D., Ph.D., Former Deputy Director of the National Cancer Institute (NCI) and as the Deputy Director for Strategic Scientific Initiatives, National Cancer Institute
Paul Beresford, Ph.D., Vice President of Business Development and Strategic Marketing, Biodesix
Peter Blume-Jensen, M.D., Ph.D., Chief Scientific Officer, Metamark Genetics
Guy Cavet, Ph.D., Vice President, Informatics, Crescendo Bioscience
Carolyn Compton, M.D., Ph.D., Director, Office of Biorepositories and Biospecimen Research (OBBR), National Cancer Institute
Darrell L. Dinwiddie, Ph.D., Director of Lab Operations, Center for Pediatric Genomic Medicine, Children's Mercy Hospital
Dana Rollison, Ph.D., Vice President, Chief Health Information Officer, Moffitt Cancer Center
Mikhail Dozmorov, Ph.D., Senior Research Associate, Oklahoma Medical Research Foundation
Malek Faham, M.D., Ph.D., Chief Scientific Officer, Sequenta
William Gallagher, Ph.D., Associate Professor of Cancer Biology, UCD School of Biomolecular & Biomedical Science, UCD Conway Institute Fellow, University College Dublin
Sarah Highlander, Ph.D., Associate Professor, Department of Molecular Virology & Microbiology, Baylor College of Medicine
Bill Gillette, Ph.D., Sr. Scientist, Group Leader, Protein Expression Laboratory, Advanced Technology Program, SAIC-Frederick, Inc., National Cancer Institute at Frederick
Peter Jabbour, B.S., Sales and Support Manager, BlueSEQ
Matthew Keyser, M.S., Next-Gen Application Scientist, DNASTAR
David Litwack, Ph.D., AAAS Science & Technology Policy Fellow, National Cancer Institute
Catherine A. Lozupone, Ph.D., Laboratory of Rob Knight, Postdoctoral Researcher, University of Colorado
Randy Strube, Ph.D., Technical Marketing Manager, Enzo Life Sciences Inc.
Rory Macneil, CEO, Axiope Limited
Matthew Onsum, Principal Scientist, Merrimack Pharmaceuticals
Joyce Peng, Ph.D., Marketing Director, BGI Americas Corporation
Christopher M Pirie, Ph.D., Research Scientist, Department of Biological Engineering, Massachusetts Institute of Technology
Michael Talkowski, Ph.D., Research Fellow, Broad Institute of MIT and Harvard
John Thompson, Ph.D., Head of Applications Development, NABsys
Rosemarie Truman, Ph.D., President and CEO, RHT Consulting
A complete list of speakers and agenda is available at BioConferenceLive.com. To register to attend for free, visit BioConferenceLive.com.
To learn more about presenting, contact Abstracts(at)BioConferenceLive(dot)comor call (714) 269-2986.
To sponsor BioConference Live, contact Sponsors(at)BioConferenceLive(dot)com or call (714) 926-6384.
About LabRoots
LabRoots is a social networking utility designed to network the scientific community based on individual scientific experience, discipline, and aptitude. LabRoots is relevant for all scientists including those within the fields of Life Science, Clinical Diagnostics, Healthcare, Environmental Science, Space Science, Chemistry, Physics, Mathematics, Engineering and Computer Science.
BioConference Live are trademarks of LabRoots, Inc. All other trademarks or service marks are property of their respective owners.
Press Contact: Greg Cruikshank, press(at)BioConferenceLive(dot)com, 714-926-6384.
###