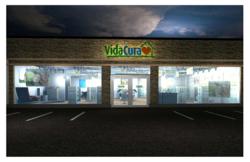 Our decision to expand to physical stores is the next logical step in our commitment to those who who are recovering from an illness or injury and seniors who need products that will allow them to stay in their homes.
Farmington, Connecticut (PRWEB) October 18, 2011
VidaCura, Inc., the Connecticut headquartered online retailer of home health and wellness products, announced today that it plans to open two retail stores featuring home health and wellness products. The company is evaluating several store locations within Connecticut as well as in Palm Beach County, Florida. Pilot stores are slated to open in Spring, 2012.
At VidaCura, customers will be able to learn about and buy over 6,000 products ranging from bath, kitchen and travel assistance, fitness, homeopathic remedies and nutritional supplements to diabetes care items, power scooters and other home medical supplies in an inviting, easy-to-shop retail format. Additionally, the bright 2,500 square foot stores will feature space for special events and local support group meetings and a state-of-the art resource center where consumers can connect with other local and national companies that provide home companion services, home and vehicle modifications, community support tools and Aging in Place specialists.
According to Larry Berk, VidaCura's President, "Our decision to expand into brick and mortar stores is a logical next step in our continuing commitment to the approximately 21 million Americans who are recovering from an illness or injury and the more than 70 million seniors who need products that will allow them to choose to remain in their homes rather than having to move to assisted living."
Berk continued, "As insurance companies require the consumer to pay more, we're all learning that we must take more personal responsibility for our own health and well-being. The VidaCura store will be a destination location where individuals, and caregivers will be able to find and learn about products that foster recovery, help us live more comfortably and stay healthier. Ultimately, there's a place for a VidaCura store wherever there are people who want to take better care of themselves."
Mr. Berk's position is supported by numerous organizations including the U.S. Department of Health and Human Services. According to their 2011 National health Statistics report, "Home Health Care and Discharged Hospice Care Patients from 2000-2007", an estimated 27 million people receive home-based long term care and the vast majority, 84%, have limitations and need assistance in at least one activity of daily living; bathing, dressing, transferring to/from or using the toilet and eating.
About VidaCura
VidaCura was founded in 2008 and today sells over 20,000 health and wellness products from premier manufacturers including Invacare, Drive Medical and Pride Mobility all purchasable via an easy-to-shop website and deliverable nationwide. VidaCura also produces "Taking Care of Ourselves", a free newsletter that speaks on health, wellness, aging and insurance topics from the consumer's perspective. It is edited by award winning writer, Eileen Beal who has covered a full spectrum of health and age related issues for publications including Aging Today.
# # #