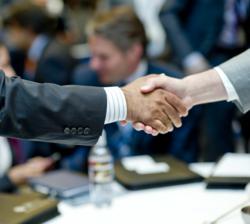 Austin, Texas (PRWEB) October 19, 2011
Three Water Rights and Trading Summits will be held next year (2012) to highlight the business and investment opportunities being created by the water crisis in the western United States. American Water Intelligence (AWI) and WestWater Research (WWR) are jointly holding these regional events in Arizona, California and Texas that will bring together industry leaders in water development and investment to focus on finding creative solutions to resource issues in some of the most water-stressed states in the union.
Clay Landry, managing director of WestWater Research and co-organizer of the new summit series, believes that water rights trading and water resource development are emerging markets creating abundant business opportunities. These markets are complex and not always easily understood.
"Water is a crucial component of our economic future and the U.S. has serious issues relating to developing reliable water supplies. If America is not already facing a water crisis, we know it will soon," Landry said.
Plan B for these states is to draw more groundwater, but a second crisis is already developing beneath our feet. Groundwater is being withdrawn from America's aquifers faster than the rate of recharge. Eventually these sources will run out, but before that there will be a steady decline in the quantity and quality of water available. This will have great economic and humanitarian consequences as these problems hit agricultural and industrial production.
To address these urgent issues, the summits will attract professionals from the fields of law, finance, engineering consultancy and government, as well as local business people and water rights holders. The keynote speech at the Southwest event, for example, will be delivered by David Zetland, native Californian, senior water economist at Wageningen University in the Netherlands and author of "The End of Abundance: Economic Solutions to Water Scarcity".
"Bringing these kinds of people together in an environment where they can share ideas and solve problems without a specific client's interests to represent is immensely powerful," Zetland explained. "They have a lot to offer and hopefully we will generate some truly innovative solutions that will bring economic and environmental benefits to their communities."
The 2012 series is as follows:
Water Rights & Trading Summit: Southwest, February 2-3, Montelucia Resort & Spa, Scottsdale, AZ
Water Rights & Trading Summit: California, April 12-13, Bacara Resort, Santa Barbara, CA
Water Rights & Trading Summit: Texas, October 4-5, The Houstonian Hotel, Houston, TX
These events will also offer opportunities for professional development (certificates towards CLE accreditation), networking and investment ideas. Delegates are invited to present ideas for a new water resource (see contact info for Monique Hardy, below). One percent of the profits from this event will be donated to the Bonneville Environmental Federation to purchase water restoration certificates that will return water to stressed watersheds in the western U.S.
Further details:
Jack Ceadel at [email protected]
Monique Hardy at [email protected] for information on programming
*American Water Intelligence (AWI) is based in Austin, Texas, and publishes American Water Intelligence, a national monthly magazine for professionals in water and water-related industries. In addition to the regional summits above, AWI also hosts the premier financial conference for the U.S. water industry in conjunction with its parent company, Global Water Intelligence. This year's American Water Summit will be held in Atlanta, November 9-10th.
*WestWater Research (WWR) is the premier advisory firm in the water rights industry. WWR specializes in water transaction advisory services, water investment and marketing services, water valuation, and water resource economics. Over the last 10 years, WestWater has forged new approaches to water markets through the development of innovative contracting solutions, unique marketing approaches and in-depth water trading analyses. WWR maintains the largest high quality database of water right transactions covering the western U.S. to assist private and public sector clients in making well-informed decisions. WestWater is the market leader in the water rights industry.
823 Congress Avenue, Suite 1000, Austin, Texas 78701
http://www.waterrightstrading.us/
# # #