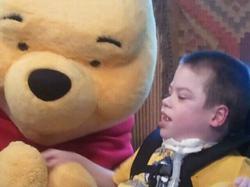 Newark, DE (PRWEB) October 18, 2011
For many children, a trip to Disney World is a dream come true. For the children of Exceptional Care for Children, it a dream that they never thought could be achieved. See the children there depend on medical technology such as life support for daily survival. Because of this, they don't get luxury of doing things other children take for granted, such as playing sports, riding their bikes in the park, or taking family trips to Disney World. They had to enjoy the magic of Disney through their movies and videos.
In May, The Frascella brothers, David and Larry paid a visit to Exceptional Care facility and saw how much joy Mickey Mouse brought to the children and "decided to bring the characters to life through the donation of an all-expense-paid trip for any child at Exceptional Care for Children who able to safely make the journey with their caregivers, including medical equipment and all of the special care and comfort measures required by these children" according to a statement made by Annette V. Moore administrator at the home.
The Frascella's who own Lighthouse Legal Finance, a lawsuit funding company, donated $100,000 for 9 or 22 children at the facility and a care team of 26 to make the trip. Unfortunately, the other children were not stable enough to make the trip.
Southwest Airlines provided round-trip airfare while Walt World Resorts Disney worked hand in hand with the staff of Exceptional Care to "facilitate a seamless journey," according to Annette V. Moore administrator at the home.
It was a dream for these children to go to go to Disney World, but it was the dream of a lot of hardworking individuals to make their dream a reality and as Walt Disney himself said, "If you can dream it, you can do it."
###