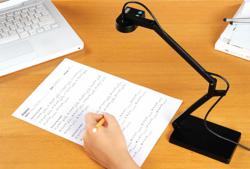 Traditional document cameras can cost into the hundreds or even thousands of dollars, and often they lack the effortless, on-the-fly customization that Ziggi offers.
Sunnyvale, CA (PRWEB) October 18, 2011
IPEVO, Inc., a designer and maker of products for emerging Internet-driven behaviors, has announced an immediate release for its newest product, Ziggi USB Document Camera. Powered via standard USB and working in conjunction with either a PC or Mac and a projector, Ziggi is designed to capture flat documents for projections or online collaborations in a classroom setting. This includes printed material and digital curriculum on Apple's iPad and iPad2. IPEVO will sell Ziggi exclusively through its online store (http://www.ipevo.com) at a price of $89.
Ziggi provides real-time image capture at both standard-definition resolutions and high-definition resolutions, up to 1600 x 1200 pixels. Courtesy of a 2 Megapixel camera, the image quality is sufficient for large-screen projections, including the fine details of text on digital LCD screens and the printed page. Ziggi's camera can also be used for webchats and webcasts.
An elongated multi-jointed stand with three points of articulation allows Ziggi's camera to be positioned at a wide variety of heights and angles in order to customize the image based on the subject and desired size and orientation. Orientation is further customizable via Ziggi's swivel head, which allows for 270 degrees of circular swivel. Both the swivel head and stand are adjustable by hand, with no knobs or screws required to lock Ziggi in place.
Numerous aspects of the image, including focus and exposure, can be either manually controlled or automated depending on conditions and user preference. Exposure and focus can be changed using buttons on the camera unit itself or via Ziggi's included software. This software allows the user to mirror the image (on either the vertical axis or horizontal axis, or both), change resolution, and exercise up to a 3x digital zoom, all in real time. Ziggi's software also features a one-touch Full Screen mode for projections and a Review mode for taking and organizing snapshots from the camera. An anti-glare shield is included with the camera, which can be equipped to reduce glare on digital screens.
"We designed Ziggi for educators looking for a professional, affordable solution for classroom presentations," said Royce Hong, CEO and big head of design of IPEVO. "Traditional document cameras can cost into the hundreds or even thousands of dollars, and often they lack the effortless, on-the-fly customization that Ziggi offers. To easily project printed material for the entire class with perfect alignment, and to take advantage of the e-learning revolution in education brought about by the iPad and similar devices, Ziggi is an important new tool for a variety of contexts and subjects."
Ziggi USB Document Camera will be available through IPEVO's online store at http://www.ipevo.com. Everyday free shipping is available for orders of $50 or greater.
About IPEVO
IPEVO designs and sells innovative products to enrich today's connected lifestyle. Catering to consumers, business professionals, and educators, we recognize the immense potential of new technologies to help people create, teach, learn, and inspire. From classroom to living room to conference room, IPEVO is dedicated to making technology more available, accessible, and affordable for all.
For more information, visit http://www.ipevo.com.
###