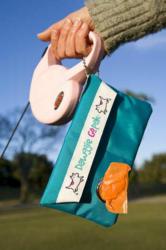 I love having it attached to my leash so I can just grab it and go. One less thing to worry about, and daily dog walks are so much more convenient!
Safety Harbor, Florida (PRWEB) October 28, 2011
What's worse than running out the door in a hurry and forgetting something? It's when already out the door to walk the dog! To add to that frustration, what about having to juggle the keys, cell phone and dog treats when the walking shorts are "short" on pockets?
DawggieGoPak by Dawgs on the Go (http://www.dawggiegopak.com) makes being able to just grab the leash and go easy when "Fido" is whining at the door. Coming to the rescue with convenience, organization meets style in a way that can't be beat. Never again forget the cell phone, spare house key, identification and the MP3, not to mention the puppy treats and poop bag!
DawggieGoPak is the perfect sized "necessities" organizer for urban dog owners and on-the-go suburban parents to properly care for their dog. As seen in Animal Wellness, Cesar's Way, Fido & Modern Dog magazines, DawggieGoPak is a top choice for pet owners to avoid the common frustration of leaving something at home.
DawggieGoPak is not only stylish, available in multiple colors and designs, but has several unique features that make it a must for pet owners. It has a roomy multi-pocket design with Velcro enclosures to securely hold all of the on-the-go needs, yet is compact enough to seamlessly attach to any type leash. DawggieGoPak has a convenient built-in baggie dispenser with a reinforced grommet for poop bags, as well as an added keychain-style loop tucked inside that's perfect for attaching house or car keys. Never be locked out again!
Proudly made in the U.S.A. with a durable water resistant fabric, DawggieGoPak is also a great gift idea for pet enthusiasts. With such a wide variety of colors, design features and ribbon selections to choose from, there's certain to be a DawggieGoPak to fit everyone's taste for their Dawgs on the Go!
###