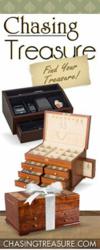 "Wooden jewelry chests are a favorite choice for wedding and anniversary gifts among engaged and married couples"
Spokane, WA (PRWEB) October 19, 2011
"Fall weddings are special, and we want to make them even more special by making it possible for people to buy high-quality wooden jewelry boxes at reduced prices," said Karen Mollison.
Mollison is managing partner at ChasingTreasure, an online retailer of jewelry boxes. Based in Spokane, Washington, Chasing Treasure has been selling jewelry boxes since 1991 and online since 2003. Its website offers several hundred jewelry boxes ranging from small travel jewelry organizers to floor standing jewelry armoires.
"We have put our best items on sale for the fall wedding season", added Mollison. "Shoppers who use the coupon code 'weddings' this season will get $25 off jewelry box orders of $250 or more," she explained.
The jewelry boxes on offer at Chasing Treasure's website include wooden chests and armoires for women and jewelry valet boxes and leather watch boxes for men. The wooden jewelry boxes and armoires are finished with woods ranging from classic mahogany to exotic bubinga.
"Wooden jewelry boxes are a favorite choice for wedding and anniversary gifts among engaged and married couples, " said Mollison. "Since jewelry is a popular gift, jewelry boxes for women and valet boxes for men are a thoughtful and romantic choice to house the jewelry gifts in and to treasure as a memorable gift itself for years to come," she continued.
Wedding guests and those invited to anniversary parties can choose from a variety of styles. "If you are going to a 5th anniversary then wooden jewelry boxes are a good choice because the 5th anniversary is traditionally the "wood" anniversary," explained Mollison.
One of the jewelry boxes that qualifies for the wedding season discount is a Bubinga Jewelry Box Chest with Mapa Burl Inlay and Locking Top. "This jewelry box boasts spacious jewelry storage with necklace hooks in the lid, a shirred pocket, 4 pull out drawers and 2 fold out lids on top revealing divided storage sections for earrings, bracelets and rings," said Mollison.
Mollison also pointed to the "his and her" jewelry boxes in the Chasing Treasure collection as excellent choices for October and November wedding presents. "Two of our brands, Reed and Barton and RaGar, design matching jewelry boxes for women and men," said Mollison.
"In addition to the fall wedding season discount, more wedding related coupons and promotions for wooden jewelry boxes are going to be offered on our Facebook page in the days ahead," added Mollison.
###