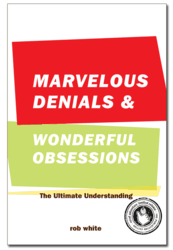 If it ain't practical, it ain't spiritual
Boston, MA (PRWEB) October 19, 2011
In his latest book, Rob expounds on the characteristic style that readers of '180' and the Mind Adventure Blog have come to delight in: "if it ain't practical, it ain't spiritual." Rob does not give dogma in his book; he simply offers information that makes people alert and aware of what happens in one's youth that makes one feel insecure.
In Marvelous Denials & Wonderful Obsessions Rob offers two possibilities, "You can stick your head in the sand, like an ostrich, and ignore the facts about your unlimited nature … or you can rise above the false self that you created in childhood moments of fear and pain, and live the life you dream of experiencing."
Rob will be giving several workshops in the greater Boston area during the month of October and November called "How to Take Atomic Action." Inquiring minds can sign up here or call the Mind Adventure office (617 477-4260) for more information.
Rob's book and workshops show people how pretending to be less than unlimited is the "ultimate insanity of humanity." Rob teaches attendees how to deny the lies about their perceived inadequacies, and become obsessed with the unlimited side. Rob offers a simple process to access real intelligence and achieve incredible results. As Rob says, "Life is not meant to be a mechanical process; it is time to come alive!"
###