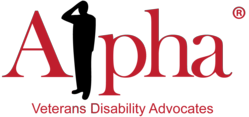 I am very proud that at Alpha we have expert veterans advocates experienced with all levels of the VA disability claims process, including those with the legal expertise required to argue denied cases before the CAVC."
Shelton, CT (PRWEB) October 18, 2011
Alpha®, the fastest growing national Veterans Disability Advocacy group in the country, is proud to announce that its advocacy services to disabled veterans now includes the legal services required to represent them at the U.S. Court of Appeals for Veterans Claims (CAVC).
"We at Alpha are pleased to take the next step in fulfilling our promise to get our clients the most in benefits from the VA," said Sean Libby, vice president of Alpha. "Our disabled veterans should pursue every avenue to get the benefits they have earned for their service to our country. They can do this with our highly trained Alpha advocates, most of whom are disabled veterans themselves."
Over 90 percent of the veterans advocates at Alpha are veterans. They are independently accredited through the VA Office of General Council. As highly skilled navigators of the VA disability claims system, Alpha advocates develop cases at all levels, from initial through appeal, on through to providing the legal representation required at the CAVC level.
The CAVC was established in 1988 to ensure that veterans have legal recourse for a judicial review if their claim for disability benefits is denied by the Board of Veterans Appeals.
"Too many veterans who have been denied benefits by the Board of Veterans Appeals either don't realize that they still have an opportunity to win benefits denied them, or they are intimidated by the court process to pursue the fight. I am very proud that at Alpha we have expert veterans advocates experienced with all levels of the VA disability claims process, including those with the legal expertise required to argue denied cases before the CAVC."
The CAVC decided over 5,000 cases in 2010. It is expected that this number will increase as more veterans practice their right to challenge VA decisions on their claims.
More about Alpha
Alpha® is a private, fee-for-service group of veterans advocates independently accredited through the Department of Veterans Affairs (VA) Office of General Counsel. Alpha serves veterans in all 50 states and is focused solely on helping veterans get the most disability compensation they deserve from the VA. Alpha is the sister company of Freedom Disability (http://www.freedomdisability.com), a leading national Social Security Disability Advocacy group.
CONTACT:
Sean Libby, Vice President
Alpha
(203) 925-2702
slibby(at)alphadisability(dot)com
http://www.alphadisability.com
###