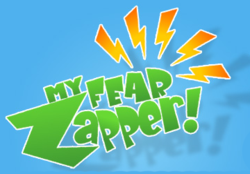 Anyone with a fearful kid needs to check this out. It simply works!
Milford, OH (PRWEB) October 18, 2011
When 10-year-old Jacob saw a man in a Halloween wolf mask, he came to a dead stop – and his mom, Allison, held her breath. "He started his normal freak-out," she says, "then I watched him calm himself down and become the boss of the fear."
She attributes this amazing change to Jacob's use of MyFear ZapperTM, a new website-based, interactive program and games that help children aged 3 and up overcome normal childhood fears. "We've struggled with his fears for years," says Allison. "Lately, after using MyFear Zapper, things have been a lot different."
MyFear Zapper takes children through a process that teaches them their mind is more powerful than their fear – in MyFear Zapper speak, they "zap the fear and become the boss of it." This helps them address the immediate fear plus build self-confidence to address fears in the future.
This is how Jacob was able to stop and, on a public sidewalk, overcome his fear. After using the program for his fear of the dark and other things, he was able to apply the tips and techniques he learned to a newly occurring situation. This will help him not only now, but into the future as he matures and faces situations we all face, such as moving, starting a new job, changing relationships, and more.
MyFear Zapper was invented by a nine-year-old girl when she became frustrated dealing with her fears. The basis of the program and games are proven psychological principles validated by psychologists, counselors and nurses.
Allison sums up the product as one valuable for any child dealing with a fear: "Anyone with a fearful kid needs to check this out. It simply works!"
MyFear ZapperTM is available for a monthly subscription at myfearzapper.com.
###