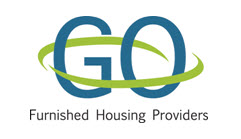 Each partner company in GO is entrusting its clientele with those partners in other markets. Our evaluation methodology ensures the prospective company can meet our meticulous standards," says Zac Cihak of ExecNet Properties.
Phoenix, Ariz. (PRWEB) October 18, 2011
GO Furnished Housing Providers is proud to welcome three new, best in class, regional providers to its partnership: Nika Corporate Housing, Suite Home Chicago and Priority Corporate Housing.
"GO Furnished Housing Providers is founded on a collective agreement among our regional partners that we will provide the industry's highest standards of accommodations and service. We want to represent the most simple, obvious and reliable option in every market for corporate travel planners and relocation specialists," says Zac Cihak, president of ExecNet Properties, which provides furnished apartments in Denver, CO and Charlotte, NC. "With the addition of Nika Corporate Housing in Tampa and Orlando, Suite Home Chicago, and Priority Corporate Housing in Richmond, VA, we feel GO becomes a significantly more attractive option for those travel and relocation professionals."
GO's product is held in higher regard over other brands and often over conventional hotels, according to corporate clients GO has worked with. The GO Furnished Housing Providers national partnership was formed to better serve each partner's respective clients by providing one-stop shopping with a wider reach, and meet client demands for a high and consistent standard of service.
To become a partner of GO Furnished Housing Providers, prospective corporate housing companies must undergo a rigorous onsite inspection performed by an existing GO partner. This inspection includes an evaluation of the provider's product, systems, response time, customer service methodology, vehicles and financials.
"When we refer to GO as a partnership of best-in-class providers, we aren't merely paying lip service to that claim. Each partner company in GO is entrusting its clientele with those partners in other markets. Our evaluation methodology ensures the prospective company can meet our meticulous standards," says Cihak.
"Our military and corporate clients we service locally have communicated to us that they prefer our product, and have asked if we could service their needs in other markets across the U.S. By joining GO Furnished Housing Providers it allows us to do exactly that, and also ensures us that our clients will receive the same high levels of service and product that Nika Corporate Housing is famous for within our core market," says Scott Cagle, owner of Nika Corporate Housing, which services the Tampa and Orlando markets, among others.
Jennifer Breen, owner of Suite Home Chicago, adds, "Many of our clients also do business in markets such as New York City, Boston and Detroit. Through GO, accommodating their needs in those markets feels like a natural extension of our brand."
"Beyond just the ability to service our clients in other markets, what attracted our company to GO was the vast, collective industry experience put forth behind GO's own sales efforts to bring business from Fortune 500 companies to our markets that we would not be able to pursue on our own," says Melissa Baker, president of Priority Corporate Housing, a provider for Richmond, VA and many markets in its surrounding area.
Corporate housing is a growing segment of the lodging industry. GO Furnished Housing Providers raises the bar with a one-stop reservations system, standardization of service and a nationwide reach. GO is poised to serve customers coast to coast and in Canada, and lead the corporate housing segment of the hospitality industry.
GO Furnished Housing Providers partnership includes:

Blvd Suitestes Corporate Housing
ExecNet Properties
Furnished Quarters
Murphy's Corporate Lodging
Nika Corporate Housing
Prestige Accommodations
Priority Corporate Housing
Suite Accommodations
Suite Solutions
Suite Home Chicago
Synergy Corporate Housing
TP Corporate Lodging
About GO Furnished Housing Providers
GO is a national partnership of furnished housing providers with global partners in dynamic cities. Whether your clients are relocating or on a special assignment, GO provides best-in-class furnished housing in sought-after locations. Choose from an owner-managed partnership of providers that are dedicated to offering an outstanding product and experience. At GO, feel right at home—with stylish furnishings, comfortable surroundings and everything required for living well.
For more information, call 800-679-2160, email info(at)gofurnishedhousing(dot)com, or visit http://www.GOFurnishedHousing.com.
# # #