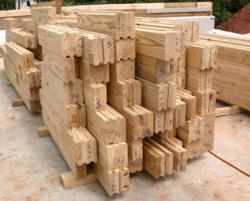 With this kit you can take matters into your own hands- and get on with it. And it won't happen again.
Wake Forest, NC (PRWEB) October 20, 2011
Today, almost six months after the April tornadoes came through Texas and up the east coast, many homes have still not been rebuilt. Those that have, are rebuilt with the same stick-framed construction methods that failed in the first place. Local contractors have a huge backlog, so many devastated families are just waiting in motels and rented houses while nothing is being done.
Enertia's inventor and founder, Michael Sykes, is offering a solution to both problems. His factory, just north of Raleigh, North Carolina, can cut and number a pre-fab kit for the walls and roof of the replacement home that the homeowner and his family and friends can erect with electric drills. Because the walls are solid Gluelam timber, which is stronger pound-for-pound than steel, the new home is much more likely to survive the next storm- which might be a tornado, hurricane, or ice event that brings down trees.
Enertia Gluelam walls were invented for an entirely different reason- for energy efficiency. The invention revolutionized house building- for the first time wooden walls were used to store and release solar energy. But the engineered wooden solid wall components are also incredibly strong and impact resistant, perfect for building a Tornado Safe structure. Enertia also manufactures Pre-fab "Safe Rooms" with the same gluelam technology- that can carried through a standard doorway, and be built inside an existing structure.
Enertia has, for 25 years, been the leading innovator in housing- an industry whose techniques and materials are mostly stuck in the 1950's. These homes are a totally new form of architecture, in both design and material, and introduced a new word to the language: "Enertia" which means energy from a shift-in-time. In 2007 the company's homes were named a Modern Marvel by the History Channel. Enertia homeowners, now in 27 states, have an almost Apple-like dedication to their houses, and would never go back to stick-frame living. This once-considered-oddball technology allows them to experience "off grid" freedom.
Enertia homes get their green credentials from the 100% renewable wall system, and their patented Geo-Solar heating and cooling. But longevity, which means resistance to nature's wrath, is the best measure of sustainability.
###