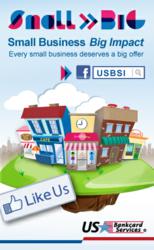 Small businesses across the United States represent 99.7 percent of all employer firms
City of Industry, CA (PRWEB) October 18, 2011
US Bankcard Services, Inc. (USBSI) is pleased to inaugurate its Small is Big campaign to benefit small businesses. Small businesses generate jobs, attract tourism, and are vital to local economies. One of USBSI's core missions for the past fifteen years has been to give back to the community. By promoting small businesses, USBSI is working to support communities around the United States.
USBSI's Small is Big campaign begins October 15, 2011 and will be in effect until the end of 2011. It aims to make credit card services more accessible and affordable for small business owners who are the backbone of their communities. Small businesses across the United States represent 99.7 percent of all employer firms and have generated 64 percent of new jobs over the last fifteen years. The Small is Big campaign strives to encourage small business owners to expand their business opportunities by accepting credit cards.
In order to celebrate small businesses and their contributions to their communities, new merchants who join the USBSI family during the Small is Big campaign will collect a $100 signup bonus. In addition to gaining full access to USBSI's year-round, 24/7 technical support and multilingual customer service, new merchants will also receive the Freedom Package. The Freedom Package, exclusive to the Small is Big campaign, will give new merchants a free loaner terminal and free paper rolls with a myriad of other incentives.
One of USBSI's goals for the Small is Big campaign is to reach small business owners across the United States and assist them in taking the next step forward in payment processing. As a new member of USBSI's merchant network, small business owners will have unparalleled access to the Asian tourist market via USBSI's partnership with UnionPay as well as access to JCB and BCcard, worth billions in tourism dollars. With USBSI, a small step becomes a big step forward.
About US Bankcard Services, Inc.
US Bankcard Services, Inc. is a top rated MSP that offers competitive rates, incredible customer service support, and cutting edge technology in credit card processing service. USBSI offers a wide array of value-added services, including QuickDining.com (QD) restaurant e-commerce, gift card services, check guarantee, PCI –DSS compliance consultancy, 24-7 multilingual customer service and technical support. US Bankcard Services, Inc. is a registered MSP/ ISO of Elavon, Inc. Georgia.
For more information about merchant bankcard services please visit us at usbsi.com or call us at: 1-888-525-8558.
###